What you wear is as important as your mental attitude!
On-site yoga classes are a little different than traditional yoga class, in that it's easier to have your personal props and any extra accessories you like to use available and with you. Better Day Yoga brings most of the props you'll need (see below).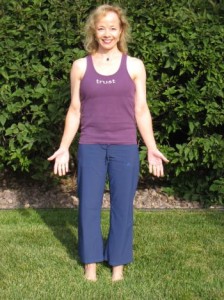 The least you need to know when participating in a yoga class is:
Wear comfortable clothing
You'll need a Yoga mat and bare feet—Yoga mats are available for class use if you don't bring your own.
You may need/desire props: Blocks, straps, and blankets are available for class use.
You may want to bring your own towel.
Your last meal or snack should have been consumed at least 90 minutes prior to practicing Yoga, some say two to three hours.
Please bring your own water bottle.
Health considerations—there are certain medical conditions that prohibit certain poses. Please talk to your doctor about positions inappropriate for you.
If you are interested in bringing Better Day Yoga to your location, please contact me to discuss!
"Sandy is passionate about yoga and shares that passion with others as she leads her class. She is an expert in the correct poses and gently teaches the art of flow. Her music is wonderful and changes with each class. Sandy gives more than instruction though, she gives of herself and creates an environment of safety and caring. I feel that participation in her class is a privilege, she is so inviting as she shares herself and the discipline of yoga with us."
"Her fun, kind demeanor and clear experience in managing trauma and bodily pain make me feel comfortable recommending her here on my page."