~
October 2022
A Time for Connecting With Spirit
April 2021
Patience Young Grasshopper
March 2021
"And suddenly you know…it's time to start something new and trust the magic of beginnings" ~ Meister Eckhart
December 2020
Christmas—that magic blanket that wraps itself about us
November 2020
The Body Remembers Our Ancestors
October 2020
The inner hand-hold
July 2020
Smiling with our eyes
June 2020
Feeling Safe is the Prescription
May 2020
Yoga as a Healing System
April 2020
What would my grandmother say?
March 2020
Have you fluffed your aura lately?
February 2020
Our Ancestors are always listening. Just ask.
January 2020
Tapping into my Grandmothers' Spirits.
December 2019
Christmas e-card and final relaxation reading. Release to the magic of Christmas.
August 2019
New Website coming soon! Introduction to my new give-away once my new website is up and running: "21 days to optimizing your innate energetic potential"!
March 2019
How to use your intuition to invite magic into your life! Listening to your gut instincts, noticing synchronicities to attract more, and asking for a dream message.
March 2019
Daily Routine Supports a Healthy Life. The importance of daily routine (dinacharya) to your health.
February 2019
The Taste of Life. The Six tastes in Ayurveda and which ones you should focus on.
February 2019
Getting in sync with nature. An intro to the Ayurvedic clock.
February 2019
The Science of Life: How to hone and own your best assets. An introduction to Ayurveda including my dosha quiz.
January 2019
Touchstones. Stones, medicine bags, blessing bowls, malas. Using objects to bring spirit into your life.
January 2019
Dialing up Spirit. How do you "dial up spirit"? Random readings, card pulls, calendars.
January 2019
A Silent Night all year round. Driving, stress and the benefits of humming.
January 2019
Using Ritual to Listen to Spirit. The start of a series of blog posts on easy ways you can bring simple rituals into your daily realm that take no more than a few minutes.
December 2018
My Christmas Card List. I believe in Santa's Cause and Christmas cards and magic.
November 2018
White Lady of the Woods. The birch tree spirit energy in my yoga room at Nola's.
October 2018
Communicating with spirits…an abundant exchange of all good things. What are you up for? The Universe is listening. How to communicate with those who've passed.
October 2018
Crack open the magic! Saying goodbye to summer made more sweet by the magic of fall's celebrations.

September 2018
Let's start something amazing at Nola's! A short stint teaching yoga at a local Indian restaurant.
July 2018
Singing 'round the dinner table. A Polish tradition. Our third trip to the farm my dad was born on and the treasured singing around the table moments.
June 2018
Midsummer Madness. The relationship between the physical and the subtle bodies. Yoga.
June 2018
The quieter you become, the more you can hear. Interesting happenings upon practicing my second day of silence as part of my Yoga Nidra training with Indu Arora.
May 2018
Knowledge is power. Health is priceless. Sharing some of my gathered knowledge on having Hashimotos Hypothyroid.
May 2018
I resemble that remark. The navel, your belly button, your power point.
April 2018
It's all energy and it's all good. Using Reiki to compliment your meditation and to send to a loved one.
April 2018
Gathering energy. How do you enter your sacred ground? Spiritual energy grows just like a muscle that needs working. Here I share various practices you can use to come to center.
April 2018
Friendship unfiltered. Finding a friend with whom you can talk unfiltered is a gift.
April 2018
Who has my remote control? Who do you let push your buttons and what affect does anger have on the body?
March 2018
My dream tutorial. Looking for my "one thing", I ask my dreams for a message and receive a series of dream tutorials on areas to work on.
March 2018
Divine Mother, Divine Goddess. Our Lady of Lourdes, Our Lady of the Miraculous Medal, Our Lady of Czestochowa. In Vedic Texts, the feminine is celebrated in many divine forms, as she is in the Catholic religion.
March 2018
Hail to the jewel in the lotus flower. Quan Yin, the Divine Mother, and the Blessed Virgin. It's all one energy.
March 2018
The hidden message. Recounting the story of my mom's hidden message to me shortly after her death penciled on the bottom of two statues.
March 2018
I see the moon. Connecting a webinar on "The Power of Shamanism" and the moon shower used in a yoga nidra practice. The ancients used the energy of the moon in similar ways.
March 2018
Crack open the magic. Another whimsical post about elves and fairies and letting your inner child out to play on St. Patrick's day.
January 2018
Reclaiming Armistice. I had the honor and privilege of attending the Vets Ministry roundtable: Art as Antidote to Moral Injury this past January 9. The meeting was opened with a ringing of the bells created by some of the Veterans present.
December 2017
Reindeer Magic. Flying reindeer, magic and the history behind the myth.
September 2017
Our Ancestors: "We Are Them; They Are Us." Recounting my first trip to Poland and connecting my hip pain with ancestral healing needing to be done. Personal stories and some research.
August 2017
My grandmother's smile. This time I reconstructed my paternal grandmother's life to get to know her better since I had not met her either. Her smile stays with me.
August 2017
What I did this summer. Remembering to walk the talk. An unnecessary biopsy and a tender hip reminding me I need to walk the talk of self-care.
June 2017
Anxiously awaiting your next visit. Dreams as a way for your ancestors to visit. Heartfelt stories of both my own and my husband's dream visits from our parents.
May 2017
A tribute to LaVonne. My long-time student passes from a rare form of cancer. I had the honor to work with LaVonne in her final months using yoga, reiki, aroma, sound therapy and more. This is a tribute to her memory as well as an acknowledgement of her connection at her funeral.
May 2017
Finding Zophia. I spent the whole day reconstructing the life of my mom's mom, whom I've never met, in an attempt to get to know her better. We ended the day going out to dinner and receiving a mystical message of thanks from my maternal grandmother. 
April 2017
My last mom. The 30-year anniversary of my mom's passing on the heals of losing my step-mom has me angry with April for having taken all my moms, and grateful to have had three moms.
April 2017
Delicate…but powerful. A vacation to the wine country in California, and in particular, Chándon winery, had me in awe of the magical words our wine professional used to add pizzazz to the tasting. Words are magic, don't you think?
March 2017
Moonlight Magic. Stepping back in time using the antique paintings and calendars on my chiropractor's wall, I share the imaginative thought wondering if I could indeed step back in time like the movie "Field of Dreams".
March 2017
When E.F. Hutton talks. Sharing the intense listening one of my dearest mentors, Indu Arora, inspires from her audience. A day at the Minneapolis Yoga Conference.
March 2017
You call it a jig, we call it a polka. Treasuring being a Pole celebrating St. Patrick's day as we danced to an Irish jig (in slow Polka fashion) for the FIRST time after my husbands fall from the roof almost a year prior. Treasured moment.
February 2017
In the Eye of the beholder. What I thought was a fine piece of Incan art on the wall of a student's home turned out to be her child's art project. You can find the sacred wherever you look.
February 2017
Approval from within. A trip to a play brought up memories of the first time I saw it as a sales award/bonus from my then corporate job. This memory came with a lesson in life to acquire your approval from yourself. 
February 2017
Sacred Moments. Almost two years after my mom (in-law) passed, I shared a story with my husband (her youngest son) that he had not heard. His mom had spoken to the hospice nurse the day she died, awakening from her slumber only long enough to proclaim she was going to heaven that day.
November 2016
Soham: I am that. Słucham: I am listening. Comparing a Polish and Sanskrit using a particular phrase and enjoying the similar meanings in the two languages—close to  my heart.
November 2016
Magical protection from the envious or evil eye. An in-depth dive into the meaning of the amulet known as "hamsa", "hand of fatima", "hand of mary" and other names.
November 2016
Medicine Dreams. After experiencing two dreams about crystal stone messages two days in a row, I share my dream messages as well as the metaphysical properties of the stones in my dreams.
November 2016
The Crucifix candelabra and the wooden boy. Picking up two treasured pieces from a student's moving party, I share the joy of listening to what the wooden boy may have been communicating to me. An equisitely beautiful antique candelabra from France was also in the mix from my uber-generous yoga student.
May 2015
Tribute to my mom (in-law) who passed. I recount her experiences hearing the voice of her beloved husband, who had passed previously in 2003, singing to her in-between sleep and awake. 

February/March 2014
Elves and fairies, my childhood book issue, forward fold/paschimottanasana, 'elementals'/a magical way to play with chakras, crystal grids/manifesting your own magic, origami and my husband's paper napkin/heartfelt masterpiece creations, asparagus quiche, Athena and Sophia wisdom goddesses
September / October 2013
Ancestral healing/my trip to Poland/staying at the farm my dad was born on, easy-seated pose, energetic benefits of going barefoot, chakras outside the body, mudra for higher consciousness, yoga benefits career, Caramelized apples,
March/April 2013
Inviting the sacred into your yoga practice, dolphin pose/forearm down dog/headstand prep, leaving questions unanswered as a meditation, crown chakra/sahasrara chakra, prayer hands/anjali mudra, yoga Nidra for menstrual disturbances, spinach-asparagus-and ramp frittata
January/February 2013
Energetic knots/granthis, karma bracelets/living your purpose; root lock/lift/mula bhanda/the first knot located in the root chakra area; Root Lock/Lift affects your physical, energetic, and mental bodies; Enchanted jewelry; science behind hand mudras; yoga and PTSD, shepherds pie
September/October 2012
Slogans part 2 issue, Slogans that make you feel good, locust pose/salambhasana, holistic beauty, solar plexus/Manipura chakra, hasta mudra, Carmelized apples
July/August 2012
Following your messages/Divine guidance and your life's purpose, crescent lunge, Illuminata prayer for your life's work, sacral chakra/swadhishthana, cheerfulness mudra, yoga and anxiety, grilled vegetables and pasta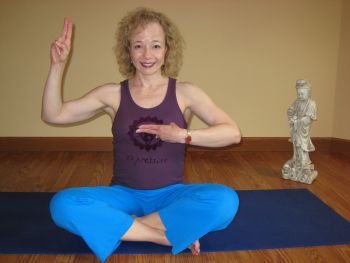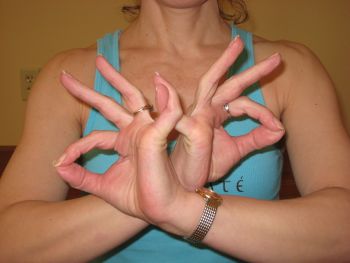 May/June 2012
Lucille ball and other heroes/misfortune enables growth, hero's pose, match meditation, solar plexus/Manipura chakra, ahamkara mudra/"I-maker" mudra, yoga and eating disorders, Greek quinoa/couscous salad
March/April 2012
Magic is not just for the young!  Final relaxation/savasana, yoga Nidra benefits, third eye/Ajna chakra and connecting to the magical realm, gesture of enlightenment mudra, cabbage rolls
January/February 2012
Seeing life as if you just came out of a tunnel/beginner's mind, Bridge pose/setu bhanda, HeartMath attitude breathing, heart chakra/anahata, kubera mudra for confidence and finding lost objects, music and brain/body health, pasta fagiolo
November/December 2011
The energy of circles, wheel pose/chakrasana, labyrinth meditation, sacral chakra and the circle, mudra for preventing burnout, dream cards, wrinkles and stress, spicy fall stew baked in a pumpkin
October 2011
Making magic manifest in your life, crow pose/bakasana, coupler pull technique to bring emotions, mind and body into balance, third-eye chakra-an Egyptian view, mudra for empowering your voice, ascended masters oracle cards, yoga calms irregular heart beat, braised cabbage with sausage
September 2011
The luxury of time to reflect is really a necessity, mountain pose/tadasana, "mindfulness master" game, the magenta heart chakra and the golden ray of divine love, mudra to increase calm and concentration, harmony angel cards, yoga and fibromyalgia, Hariton's famous vegetarian casserole
August 2011
The Kundalini yoga issue, Hari Bhajan Khalsa interview, Kriya – three exercises for energy, creativity and prosperity, Hari Bhajan Khalsa's first published poem, kundalini/life energy, meditation for emotional balance, Innerspeak™ cards, kirtan kriya improves memory function, baked tomato salad
July 2011
Being uncomfortable is where the growth is, side-reclining leg lift/Vishnu pose, developing your intuition breath, solar plexus chakra and setting boundaries, mudra for inner integrity, dharma cards, meditation and heart health, sautéed Swiss chard
June 2011
Rituals connect you to Spirit (singing bowls, salt lamps, candles)/creating a sacred space, feeling inadequate and finding your inner scarecrow (Wizard of Oz references), cat/cow pose and side-to-side stretch, root chakra and the heroes journey, mudra for courage, anything is possible activation card deck, working with balance helps ease anxiety, green cabbage and mushrooms
May 2011
My dream message interpretation: "Be with air, add water", side angle/parsvakonasana, loving kindness meditation, pink and gold vibrations/heart and sacral chakras, guidance mudra, Kundalini Blessings cards, loving kindness meditation increases life satisfaction and decreases depression, asparagus soup
April 2011
Being aware of small wonders, tortoise pose/kurmasana, purification meditation/surround it in light, balanced crown chakra and fulfillment, mudra to open the crown chakra, the Power of Now cards, peach-blackberry smoothie
March 2011
Leprechaun and fairy issue, allowing magic into your life, standing straddle fold/prasarita padottanasana, Self-inquiry/who am I? meditation, using the brow chakra to affirm our goodness and confirm our worth, mudra for powerful insight, healing with the fairies oracle cards, yoga benefits rheumatoid arthritis, gluten-free Irish soda bread
Heart issue (Valentines Day reference), yoga and chocolate, cobra pose/bhujangasana, heart meditation, the heart as an intuitive center/heart chakra, mudra for two hearts and two wings, developing intuition cards, yoga for dry eyes, chocolate raspberry bonbons
January 2011
Life is what happens when you're making other plans, legs up the wall/viparita karani pose, meditation for a happy new you, throat and solar plexus chakra as partners/willpower and expression, mudra for detoxification, healing the mind and spirit cards, mantra and rosary recitation have possible physiological benefits for the heart, chicken wild rise soup
November/December 2010
Jewelery that came to me and jewelry I gave away spontaneously/paying it forward, warrior III/virbhadrasana III, grounding breath, grounding and the root chakra, mudra to relieve tension, water crystal oracle cards, yoga and depression, butternut squash soup
October 2010
The luck issue/white squirrel, choose to be lucky, warrior II/virbhadrasana II, the energy of orange/sacral chakra/Halloween, mudra to help maintain the balance of water in your body/enhancing beauty and restoring moisture and suppleness to dry skin, this mudra is done when you've got a cold, cough, asthma, or other sinus issues, karma cards, cardio vs. strength training/yoga as strength training, three-apple applesauce
September 2010
Slogans part 1 issue, Slogans to make you feel good, warrior I/virbhadrasana I, strike a match meditation, turning over a new leaf solar plexus and throat chakra, mudra for powerful energy, trust your vibes deck, calming yoga poses and your face, apricot-thyme galette
August 2010
Listening to trees/connect to nature, side-plank/vasisthasana, ceremony of re-bonding meditation and silent walk meditation, deepening our connection to nature/root and sacral chakras, "Break of Day—origin of all good things" mudra, sacred path medicine cards, yoga therapy and asthma, Berries and Cream or Cheesecake without the crust 
July 2010
Vacation state of mind/self perception and health, gate pose/parighasana, heart/thymus, third-eye, and crown chakras/compassionate loving nature, immune-boosting ability and visualization, mudra for protecting your health, empowerment cards for inspired living, spinach pie/light summer meal or side dish
June 2010
What you do is vitally important to who you become, Tree Pose/Vrikshahsanna, Notice the light within, Sixth Chakra/Third-eye Chakra and seeing the way, wisdom, envisioning the future, mudra for self confidence, Healing Cards, yoga reduces stress, Eternal Om CD, 
How Better Day Yoga got it's name from the March 2010 newsletter