Hello Everyone!
Hope you're enjoying the blooming buds outside and inside your heart this time of year! In this newsletter, I'm sharing a recent Instagam post I made since most of you aren't following me on Instagram. (If you like this little snapshot, I hope you check out my Instagram site @sandykatbetterdayyoga. :)
Patience Young Grasshopper
A few years ago, I was teaching a yoga class and had cued a tree pose. One student was attempting to float into the pose and was having some difficulty.
As she popped in and out of her attempt, I gave her accolades for being the inspiration for what is now in my line-up of balance poses! Her form reminded me of the now-famous pose by "Daniel-San" on the Karate Kid.
I said "that's perfect"! It's the "grasshopper pose"!! And as I balanced on one leg with bent elbows toward the sky, I added optional movement:  one hand wiping an imaginary circle in the sky—"wax on". Then the other does the same—"wax off". 🙂
May we all have patience with our balance efforts knowing each effort is absolutely perfect.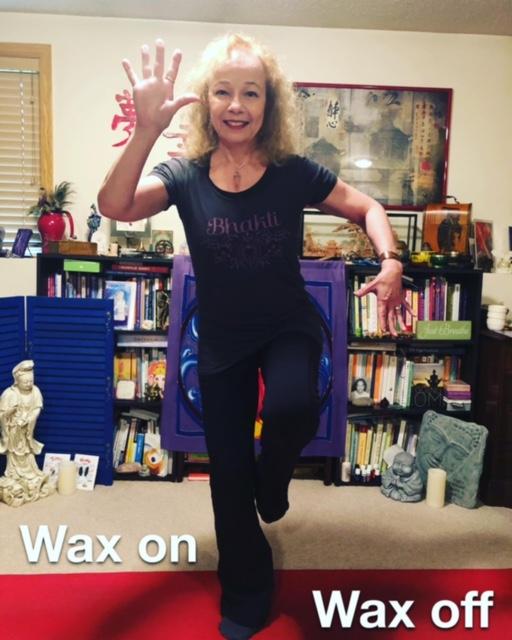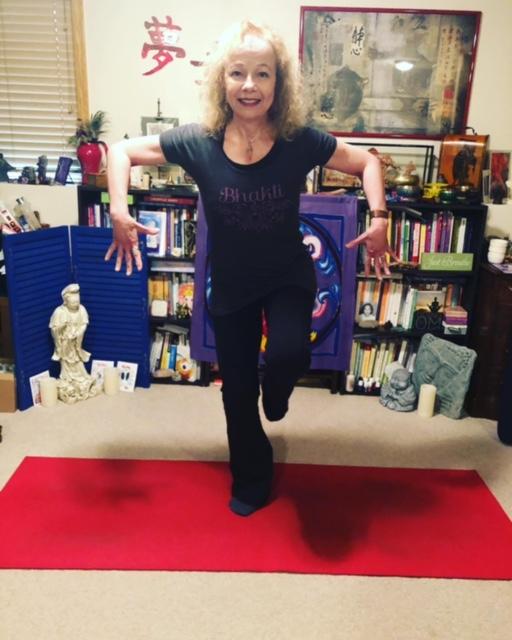 Namasté,
Sandy Krzyzanowski
Better Day Yoga, LLC ~Mail to: 5024 Oxborough Gardens
Brooklyn Park, MN 55443-3990
(612) 708 6900
Zoom, zoom zoom!
I've converted all of my private classes onto Zoom. Here are some other Zoom options to consider!
AYURVEDA
I let you know about my continued studies as an Ayurvedic Practitioner in my last newsletter. The "Science of Life" / Sister Science to Yoga never ceases to fascinate me. I'm currently studying analogy of the face, ears, hands, eyes…. Are you interested in an Ayurvedic Consult?
An Ayurvedic consult is a series of Ayurveda therapy sessions, where we work together to determine your unique mind/body make-up which then helps us to determine where you might be out of balance. We look at diet and lifestyle, including time spent in relaxation, movement, breathwork and meditation/prayer. Then, considering all aspects of your unique mental, spiritual, emotional and physical life, together we will begin an individualized approach to bring you back to center, back to your true nature. Please let me know if you would like to participate in an Ayurveda consult! I would love to work with you!
YOGA NIDRA
Yoga Nidra is often referred to as Yogic Sleep. It is said that a 30-minute yoga nidra practice is equivalent to 2-4 hours of sleep! In yoga nidra, the benefits are immediate, from reduced stress to deep rest.
I have completed over 100 hours of Yoga Nidra training with my mentor, Indu Arora, as well as completed Kaya Mindlin's in-depth "Nectar of Nidra" training and YogaFit's Nidra training based on Richard Miller's iRest Nidra program.
This ancient practice has incredible relevance in the modern world. With an excess of tension and worries, discomforts and uneasiness, fears and phobias, Yoga Nidra is a vehicle to connect deeply to our true nature, to peace, health, and self-awareness. Would something like that interest you? Please let me know! Contact me here.
Needing a little spruce-up but not wanting to leave the comfort of your own home? Try my online:
Facial Exercise, acupressure, self-massage class
Turn back the hands of time and learn some basic facial exercises that add muscle tone and a fresh glow to your complexion—and have a lot of fun in the process! No needles or chemicals involved. Be prepared to touch your own face (deciding whether you want to wear make-up to class is up to you!). We'll cover specific exercises for your eyes, cheeks, nose, chin/neck, as well as your overall face. I'll also cover some facial acupressure points, self-massage techniques, skincare tips, essential oil considerations as well as some tools of the trade you can consider. Learn more here.