Hope is your magic. Dream is your power. 
More wonder, fire girl.
My regular readers know that I work with my dreams and dream messages between sleep and awake. (See How Better Day Yoga got its name for a bit more detail.) I write down many of the "messages" so I won't forget them. When I review them, I'm always in awe. The above title reflects two messages I received on two different mornings between sleep and awake. That first line—isn't it powerful?! And the second one was a message from what I believe was identified as my mom. There was more than just the "More wonder, fire girl." But "more wonder" made my heart sing. My mom never referred to me as "fire girl" so that was a moniker I decided I'd like to embrace. Who wouldn't want to be referred to as "fire girl"?!
March has always been a magical month for me because of Saint Patrick's Day. I've written about the "wee folk" in more than one newsletter—this one's my favorite. I've also written about being lucky in past posts.
"Magic" is probably my absolute favorite word! The word itself evokes…something extraordinary, something unknown and yet to be discovered, something whimsical and sure to make you smile, something undefinable. So I use it a LOT. When my dream message incorporated the word "magic" and "dream" and then "wonder"; THIS lit me up! How about you? What words light YOU up? Dwell on these things.
I believe looking forward to something with anticipation helps us get through tough times. It makes our journey happier. It's the journey, not the destination, right?  This is another way of instilling hope, don't you think? That was a gift my dad embodied. He always planned for something new to strive for. He was always moving forward. He always told me to "never give up". (Please Log into Facebook before clicking)
He was a Polish prisoner of war during WWII and lived for five years in a displaced person's camp after the war where he met my mom (also a Polish prisoner of war), married her and had two children there, all the while hoping for and dreaming of a better life (see my trauma-informed yoga page). This tool of resilience to always look and move forward has been what I consider a treasured gift—my own personal version of a magical heritage. "Hope is your magic. Dream is your power". THIS is my parent's legacy.
"More wonder, fire girl". As mentioned this dream message was identified as coming from my mom. I won't share exactly how it was identified but she referred to how she died. So that was good enough for me! Both of my parents suffered from undiagnosed PTSD (my YogaFit Warriors Training filled in many of the blanks from my childhood experience).  Where my dad found a way to find resilience, he exhibited many other trauma symptoms. One of my mom's symptoms was chronic anxiety. They both experienced emotional numbing.
I remember wanting to take my mom to a bridge overlooking a serene waterfall near my apartment. She looked somewhat curiously at me, with searching eyes, and asked "Why?".  I think she really wanted to know what it was that I felt. I couldn't fathom not wanting to see beauty in nature, while she had a hard time experiencing awe and wonder given her history. So to have this message of "more wonder, fire girl" from mom was a real treasure—albeit somewhat of a surprise.
I'd like to think she found her awe and wonder in the afterlife. This thought makes me smile and that she shared this encouragement with me gives a sense of closure for that moment earlier in our lives when she didn't understand why I'd want to share a beautiful view. Also, addressing me as 'fire girl" is a bit out of character for her but perhaps she wants me to be more daring as I move forward in life—more daring and more full of wonder. I can do that.
So what do you hope for? What are your dreams? How do you experience wonder? These are the things that make life worth living. These are the things that evoke a magical existence. And as we venture through this magical month of "wee folk" and the "fairie realm", let's remember we can create our own magic; and we most definitely should.
"Don't deny yourself Magic…believe. – Rachelle Donahoe
"There's magic in energy, in creating, in being in a relaxed space where you are open to receive. There's magic in imagining." Sandy Krzyzanowski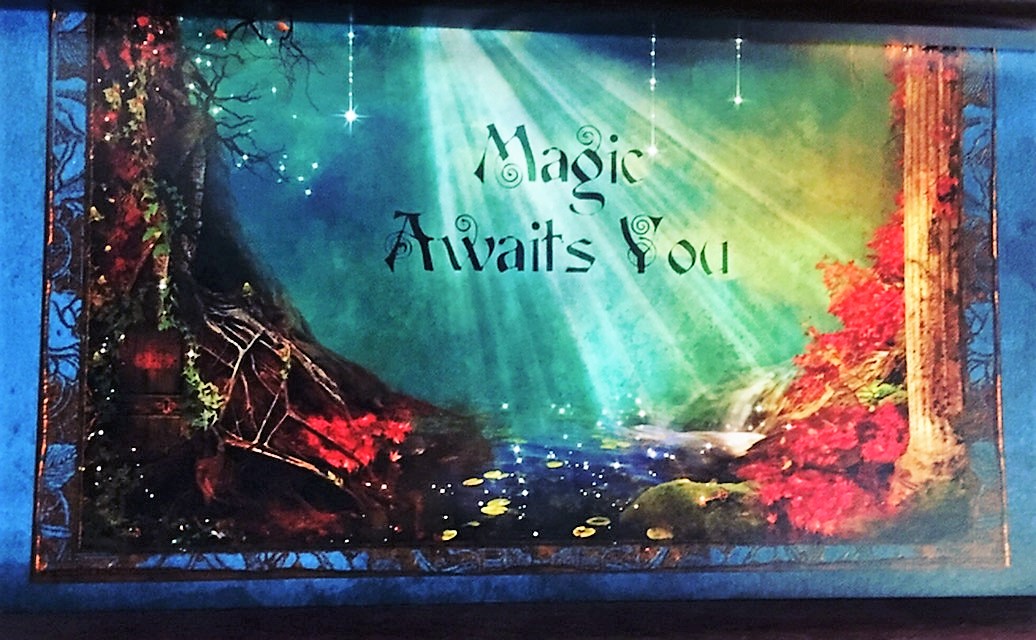 "If you do not believe in magic, your life will not be magical"–Lynn V. Andrews.
PS: I'm writing this on March 11—the 73rd anniversary of my parent's lawful entry into the United States. So they're on my mind today. Had I written about these dream messages another day, who knows where my thoughts would have gone. I believe everything's a message and everything has magical potential. Don't you?
Namasté,
Sandy Krzyzanowski
Better Day Yoga, LLC
~Mail to: 5024 Oxborough Gardens
Brooklyn Park, MN 55443-3990
(612) 708 6900
www.betterdayyoga.com
UPDATES:
By the way–I have been updating my current website and removing broken links, missing photos, etc. My inaugural newsletter was written in November 2009. When my current website was created, I was able to transfer newsletters back to July 2010 from my outgoing website. I always planned on moving the rest over when I could. I recently moved June 2010 over. This is one of the old format newsletters which were 8 part/posts newsletters. They took quite a bit of time so I began doing single post newsletters after the February/March 2014 newsletter. If you care to peak at them, I'd be honored.
AYURVEDA
Are you interested in an Ayurvedic Consult?
An Ayurvedic consult is a series of Ayurveda therapy sessions, where we work together to determine your unique mind/body make-up which then helps us to determine where you might be out of balance. We look at diet and lifestyle, including time spent in relaxation, movement, breathwork and meditation/prayer. Then, considering all aspects of your unique mental, spiritual, emotional and physical life, together we will begin an individualized approach to bring you back to center, back to your true nature. Please let me know if you would like to participate in an Ayurveda consult! I would love to work with you!
YOGA NIDRA
Yoga Nidra is often referred to as Yogic Sleep. It is said that a 30-minute yoga nidra practice is equivalent to 2-4 hours of sleep! In yoga nidra, the benefits are immediate, from reduced stress to deep rest.
This ancient practice has incredible relevance in the modern world. With an excess of tension and worries, discomforts and uneasiness, fears and phobias, Yoga Nidra is a vehicle to connect deeply to our true nature, to peace, health, and self-awareness. Would something like that interest you? Please let me know! Contact me here.
Needing a little spruce-up but not wanting to leave the comfort of your own home? Try my online:
Facial Exercise, acupressure, self-massage class
Turn back the hands of time and learn some basic facial exercises that add muscle tone and a fresh glow to your complexion—and have a lot of fun in the process! No needles or chemicals involved. Be prepared to touch your own face (deciding whether you want to wear make-up to class is up to you!). We'll cover specific exercises for your eyes, cheeks, nose, chin/neck, as well as your overall face. I'll also cover some facial acupressure points, self-massage techniques, skincare tips, essential oil considerations as well as some tools of the trade you can consider. Learn more here.