Six Weeks
To
Inner-Resilience
SIX WEEKS TO INNER-RESILIENCE
Would you like to learn how to take back your health and vitality?
Let me show you how to live in balance with nature and reawaken your inner resilience through yoga's 5000+ year-old sister science: Ayurveda. Ayurveda literally translates to "The Science of Life". Through an understanding of the power held within the cycles of nature and how the elements and qualities in nature affect each of us uniquely, Ayurveda helps us hone our greatest assets, increasing our resilience and longevity.
"Six-weeks to Inner-Resilience" will recapture what you've known intuitively all along: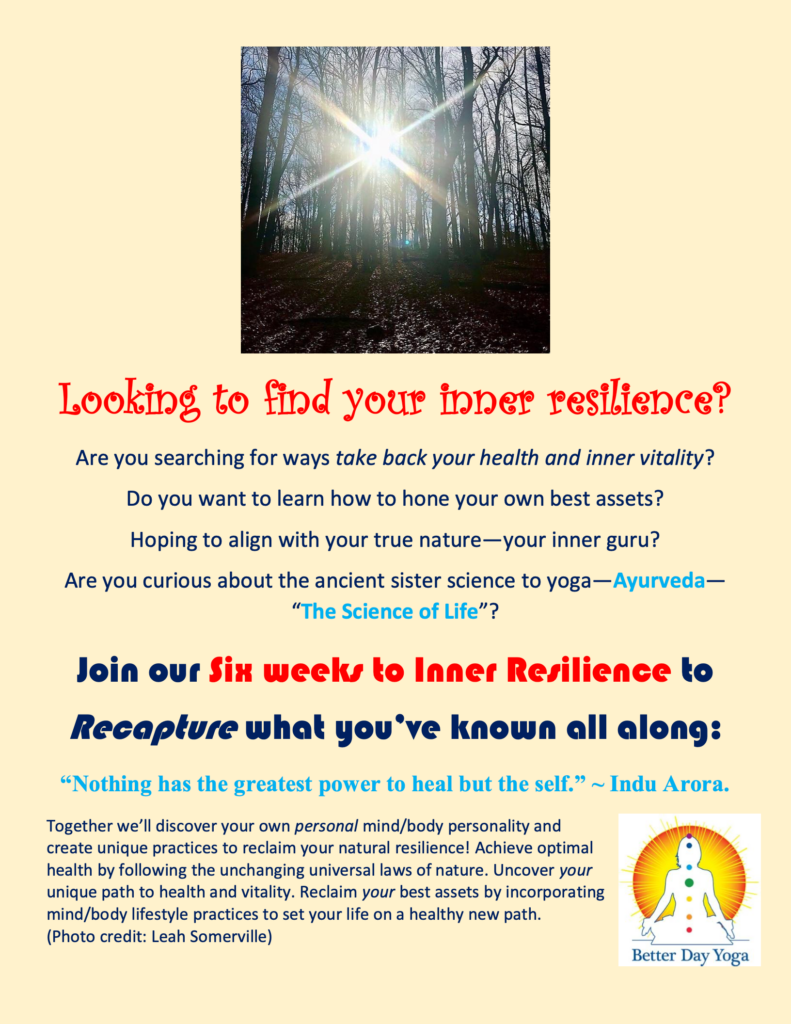 "Nothing has the greatest power to heal but the self." ~ Indu Arora.
In my "Six Weeks to Inner-Resilience" workshop I'll help you establish a personalized daily routine to reawaken your personal inner guru. With the help of your supportive "tribe" members we'll celebrate each other's successes and encourage accountability, cheering each other on, answering questions, sharing advice, recipes and pertinent articles.
"I was having trouble losing weight and had no energy when my friend suggested that I try a yoga class at Better Day Yoga.  After my very first class I could tell that this was what I had been looking for and needed.  Sandy takes the time to make sure that you are doing everything correctly and that you are getting the most out of each and every class.  Over the past year, I have lost 55+ pounds and have so much energy.  I feel stronger and my stress level has also gone down. I look forward to class each week and recommended that you try it." ~ Cathy Collova
 Minimum 5 people / Maximum 12 people
per Six-week workshop
Your Six-Weeks to Inner-Resilience includes:
Face-to-face-meetings (via Zoom) which include: A group yoga practice and after class review of the upcoming week's topics (approximately 90 minutes). 
Membership in a private Facebook Group for questions and follow-up, recorded class videos, pertinent handouts and cheat sheets, recipes, advice, and encouragement
Each week we'll review ideas and suggestions for: 
Your personal at-home yoga practice,

Meditation, and Breath practices to calm, energize or balance

Discovering how to eat more mindfully and in tune with your

unique

nature

Positive, feel-good activities to keep you motivated and progressing forward toward reclaiming your natural inner resilience

Journaling exercises to track your progress and uncover emotional patterns, stress and anxiety triggers

Daily rituals for maintaining clarity of mind and intention

Understanding your Ayurvedic "body type"/constitution so you can befriend your greatest assets

Incorporating ancient Ayurveda techniques into your routine
Similar to my other classes, this six-week transformation workshop is available as a private group class via Zoom starting no later than 6:00 PM and no earlier than 12:00 PM on a time available in my schedule.
Students pay for the full Six weeks up front and when the date of the last session is done, the workshop is done. There is no refund of unused classes if you miss a class.
Timing: The Six weeks may or may not be consecutive depending on both my personal schedule and the group's individual's schedules. In other words, I'll work with you to get Six weeks that everyone, or a majority, can attend. If you want to have this Six-week transformation with your group, please contact me to discuss!
Tuition due prior to the first class:
$120 per person, per Six-week workshop
($20 per class)
Already in a regular five-person minimum / 12-person maximum group practice and your group wants to do the workshop? No problem!
Your group can choose to add the workshop by simply adding the after-class discussion and Private Facebook Group membership portion of the workshop and equal the $20 per week, per student rate.  (No discounts would apply).
You will also need to have available or complete prior to class:

Please take my

dosha quiz

to determine your own body type:
The instructions are at the top. You'll be taking the quiz twice, as explained. For each time you take the quiz, total the columns on both pages to see which is your dominant dosha, second dominant, and third.
A personal Journal (or two or three) of your choice. You decide how many you might use! Ideas for journal uses:
A daily catchall of:
lists


goals thoughts

quotes
and to-do's

A food journal to record what

you ate and

how

you ate (i.e. did you gulp it down, eat while watching TV or while reading, as well as any emotions in and around your environment at the time of your meals).

A personal journal for doodling, morning pages stream of conscious writing, letters to your inner self.

Loose-fitting clothing or yoga attire, whichever you prefer

Yoga Mat (for your personal, home practice).

 

Join my private "Reclaiming my inner resilience" private Facebook group! I will record classes similar to the ones we have in person and have them available for viewing here.

Get ready to reconnect with your personal inner guru! 🙂
"The great thing about Ayurveda is that its treatments always yield side benefits, not side effects."
Shubhra Krishan
"Sandy K has a winning personality. She knows the value of a smile thus she is excellent working with/for/managing people. Her ability to organize, communicate and produce positive results sets her apart from her peers. I would have her back anytime."
"I was having trouble losing weight and had no energy when my friend suggested that I try a yoga class at Better Day Yoga.  After my very first class I could tell that this was what I had been looking for and needed.  Sandy takes the time to make sure that you are doing everything correctly and that you are getting the most out of each and every class.  Over the past year, I have lost 55+ pounds and have so much energy.  I feel stronger and my stress level has also gone down. I look forward to class each week and recommended that you try it."