My Better Day Yoga Products
Current Students: If you are a current Better Day Yoga student and want to purchase any of the products below, please email me and I'll invoice you for the items you would like minus the shipping charges. I'll then deliver them to you in class.
**All Others: Better Day Yoga is only set up to ship to the 50 U.S. States using the PayPal buttons below. If you wish to order any products to be shipped outside of the U.S., please contact me for a shipping estimate and to place your order. I will then invoice you the correct amount. Thank you!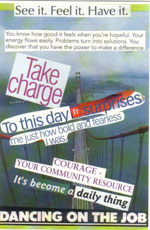 Enrichuals Card Deck
Enrichuals© card, a 64-card deck of powerful practices and soulful rituals, deck created by Suzanne Vadnais Monson. Cards designed to jump-start your creative process. Each 6" by 4" card is a playful assemblage of words and images on one side and beautiful words of wisdom, encouragement and inspiration on the other. Highly adaptable for personal growth and inspiration, group activities or adding value in client relationships. Each deck comes with a booklet of ideas for using the cards and an organza bag for artful storage. (As of 2/3/23 there are seven decks left and when they're gone, they're gone!)

Ideas for use:
Use as a journal prompt
Draw a card for daily inspiration
Use to stimulate group discussions
Spice up your new client welcome packet by adding a card.
Mail a card to a client for inspiration and affirmation
Yoga Mat Essential Oil Spray
1.8 fl oz (53 ml)
Created for my students; bottled for sale at their abundant request! Here it is!  Enjoy!
Here are some unique ways I'm hearing others are using my mat spray outside of yoga class:
• In your shower and/or as a bathroom spray,
• In your luggage,
• On your bed sheets,
• In your car
• …uses are only limited by your imagination!
Thanks for making it so popular, everyone!
Ingredients: Distilled Water, Basil, Cardamom, Rosemary, Peppermint, Rosewood, Geranium, Lemon, Bergamot, Roman Chamomile, Jasmine, Palmarosa, Ylang Ylang, Sweet Almond, Spruce, Blue Tansy, Frankincense, and Cinnamon Bark.
My yoga mat spray uses oils that:
promote mental alertness or wakefulness when experiencing fatigue and drowsiness;
help energy alignment, spiritual connection and centering;
act as an antiseptic to disinfect the mat,
is uplifting,
help release negative memories…
there's more, but I'll stop there!
My suggestion is to use it to clean the mat—the other benefits are there for my students to enjoy. I haven't spoken to my students about the energetic benefits—they have just used it and have all commented on how they would love to buy it! Thanks for the interest!
Caution: Keep out of reach of children. If pregnant, nursing, taking medication, or have a medical condition, consult a healthcare practitioner prior to use.
"I love the all natural yoga mat spray made by Sandy. I use on so much more than my yoga mat."
"Sandy-loving, kind , very accommodating to my needs, became my friend and family. She lights up the room with her smile and makes our yoga class fun.
I greatly look forward to a weekly class.
We're also Polish buddy's,
love ❤️  you girl."