Hello everyone!
It's spring time soon and I'm hopeful! I hope you are too!  Thank you for being a part of my newsletter community! I so appreciate your being here!
The Magic of Beginnings
"And suddenly you know…it's time to start something new and trust the magic of beginnings" ~ Meister Eckhart
As we approach warmer weather and the possibility of being outside, I always lighten up emotionally, don't you? It really feels like a new beginning each year. This year, especially, we have so much more to look forward to, don't we? We can all agree that last year was one we want to put behind us.
March is also a magical time because it holds the magical St. Patrick's Day celebration! I've written about the wee folk many times! I've always loved the word "magic" don't you? It holds so much possibility. With magic, anything's possible. Simply saying the phrase: "Anything's possible" makes me light up. How about you? Go ahead, try it.
We create so many conditions for ourselves. "This has to happen before that happens and until that happens, well I can't do …you fill in the blank." Sometimes it's even as basic as thinking we can't be happy until a whole array of things happens. Why not dwell on a new thought process? "Anything's possible!"
One of my mentors reminded me that today is "Mahashivratri". In Indian culture, the 14th day of every lunar month or the day before the new moon is known as Shivratri. There's a lot of celebrations here! Of all twelve occurrences, the one occurring in February-March holds the most spiritual significance—hence "maha" or "great". On this day there is "a natural upsurge of energy in a human being. This is the day when nature is pushing one towards one's spiritual peak."
Yes, I believe this magic of new beginnings, permeates this time of year. Personally for me, my history holds this day as a celebration in another very important way as well.
Excerpt from my "someday" book on my family history:
"We were not in touch with relatives when my husband and I visited Poland for the first time in 2008 to celebrate our 25th wedding anniversary. His grandparents were born in Poland and my parents were born in Poland, so this is the country of our ancestors. We wanted to visit our homeland and specifically the larger towns my mom and dad were from.
It was March 11, 2008 when we headed out to The Library of the Polish American Cultural Institute in Minneapolis to do research for our trip. I brought copies of the papers I had from my parent's collection of important documents. As we drove to the library, I was glancing down at all the paperwork I copied. My eyes landed on the date my parent's boat, the USAT General Hersey, docked in the U.S. for their 'lawful entry for permanent residence'. It was March 11, 1950—58 years ago to the day. Tears welled up in my eyes. That date was not in my memory banks. I don't believe in coincidences. It was another 'hello' from heaven."
So now, you see, March 11 is in my memory banks. Today is the 71st anniversary of my parent's lawful entry into the United States after having spent five years in a displaced person's camp, still basically prisoners. They met in the camp after World War II having been prisoners of war on German farms during the war. And they waited through illness and hospitalization to be healthy enough as a family to travel as the first two boats out of the camp came and went. The boat destined for the U.S. was the third boat and they were all healthy to travel! I often put myself in their shoes knowing there's no way I can fully comprehend what they went though.
On International Women's Day a few days ago, I celebrated my mom with a post containing their family photo with their two small children taken just after they immigrated here. Upon that photo I added: "She was powerful not because she wasn't scared but because she went on so strongly despite the fear." ~ Atticus Finch. I know that it's because of all of my parent's sacrifices, I have so many opportunities available to me and I am forever grateful.
The magic of new beginnings blesses this day. I can feel it. Can you? I know my parents must have felt "an upsurge of energy" when they landed at Ellis Island. I'm sure they were scared but hopeful. They left behind so much turmoil. I often think, if they can do that, then I can do anything! And certainly, because of all they did for me, I have that opportunity here. "Anything's Possible!"
So let's all chant loudly today "Anything's Possible!" and really believe it in our hearts and souls. It's our time to shine! I'm in—how about you?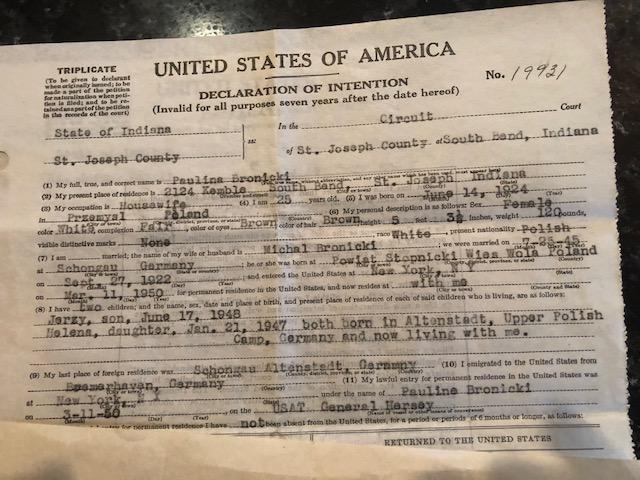 Namasté,
Sandy Krzyzanowski
Better Day Yoga, LLC ~Mail to: 5024 Oxborough Gardens
Brooklyn Park, MN 55443-3990
(612) 708 6900
Zoom, zoom zoom!
I've converted all of my private classes onto Zoom. Here are some other Zoom options to consider!
AYURVEDA
Since my last newsletter, I've been busy! I completed my two year Ayurvedic Practitioner program, studied with Dr. Vasant Lad regarding pulse reading techniques and worked with an Ayurvedic Chef as part of another 8-week immersion in Ayurveda! I'm continually adding to my Ayurvedic knowledge! Are you interested in an Ayurvedic Consult?
An Ayurvedic consult is a series of Ayurveda therapy sessions, where we work together to determine your unique mind/body make-up which then helps us to determine where you might be out of balance. We look at diet and lifestyle, including time spent in relaxation, movement, breathwork and meditation/prayer. Then, considering all aspects of your unique mental, spiritual, emotional and physical life, together we will begin an individualized approach to bring you back to center, back to your true nature. Please let me know if you would like to participate in an Ayurveda consult! I would love to work with you!
YOGA NIDRA
Yoga Nidra is often referred to as Yogic Sleep. It is said that a 30-minute yoga nidra practice is equivalent to 2-4 hours of sleep! In yoga nidra, the benefits are immediate, from reduced stress to deep rest.
I have completed over 100 hours of Yoga Nidra training with my mentor, Indu Arora, as well as completed Kaya Mindlin's in-depth "Nectar of Nidra" training and YogaFit's Nidra training based on Richard Miller's iRest Nidra program.
This ancient practice has incredible relevance in the modern world. With an excess of tension and worries, discomforts and uneasiness, fears and phobias, Yoga Nidra is a vehicle to connect deeply to our true nature, to peace, health, and self-awareness. Would something like that interest you? Please let me know! Contact me here.
Needing a little spruce-up but not wanting to leave the comfort of your own home? Try my online:
Facial Exercise, acupressure, self-massage class
Turn back the hands of time and learn some basic facial exercises that add muscle tone and a fresh glow to your complexion—and have a lot of fun in the process! No needles or chemicals involved. Be prepared to touch your own face (deciding whether you want to wear make-up to class is up to you!). We'll cover specific exercises for your eyes, cheeks, nose, chin/neck, as well as your overall face. I'll also cover some facial acupressure points, self-massage techniques, skincare tips, essential oil considerations as well as some tools of the trade you can consider. Learn more here.
And, here's the archived post from a favorite past blog on the "wee folk". I hope you enjoy it!
"If you do not believe in magic, your life will not be magical ~ Lynn V. Andrews"