Hello everyone!
I hope you are all enjoying summer in all its glory! My husband and I have renamed our deck our new vacation spot!
I'm continuing this months newsletter using the knowledge we learned last month about our vagus nerve. I hope you find it useful.
Thank you so much for subscribing to my newsletter! I'm so very glad you're here!
Smiling with our eyes
My last newsletter focused on the three evolutions of our vagus nerve: the old vagus (reptilian), the dorsal vagus nerve, and the newer vagus nerve. We learned that the newer vagus nerve innervates many of our facial muscles, our throat and voice box. Our first avenue to make a connection and befriend someone is to use our kind eyes, our smile, the prosody (rhythm, pitch, intonation) in our voice.
I'm sure many of you were thinking (as was I as I wrote it)—well how is that going to work now that we're wearing masks? Communicating only with our eyes, especially from six feet away, loses a lot in translation, doesn't it? The visual cues from the bridge of the nose down is a huge part of how our interaction is interpreted.
So it is easy to understand that there is a much greater chance for misunderstanding in the current environment, don't you think? The shape of our mouth as we verbalize our message is part of the message, right? Can you picture how your mouth moves when you're trying to joke or be sarcastic as you say something? Even a general passing by without being able to show that big smile of yours may now depend solely on your eyes if you don't use all of your resources!
Given what we learned about the vagus nerve last month, we can use that knowledge as we move forward in the current environment to befriend those around us using that sparkle in our kind eyes. You really can see a smile in the eyes! And adding a genuine uplifting "hello!", or even a kind wave as you pass if you aren't inclined to speak, will create the warm connection you usually exuded with a broad smile. Remember the rhythm, pitch and intonation of our voice is part of our message.
Part of my last newsletter reminded us that our body automatically detects risk based on our history and that the way we detect risk changes when we've experienced trauma. When we've had a history of trauma, more things—if not everything—feels like a threat. Our body responds based upon the situation or person's mannerisms, tone of voice, their unfriendly or friendly gaze. Remember that this response is automatic and we have no control over it.
There are some studies out right now saying how we are all collectively undergoing a kind of global trauma. I know for myself, that when I scan the news, it's heart-wrenching. Given that it's harder to develop and maintain social bonds when you're not talking with your full face, we might do well to start thinking of using our kind uplifting greetings, our friendly hand gestures and our heart-opening posture to communicate that we're approachable—that we're friendly and mean no harm.
Other helpful ways to communicate might include asking more questions to confirm you're understanding what the other person is saying. You know what they say about assuming something, right? It's never been a good thing!
I can do this. How about you? How do you think you appear to others? In years past, it was easy to know our broad smile could work charms. Now we have some extra talents to work on! And I think we're all up to the task!
Stay safe and be well! I appreciate you!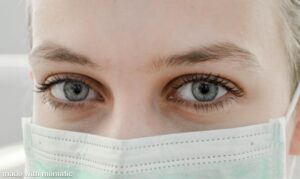 Namasté,
Sandy Krzyzanowski
Better Day Yoga, LLC
~ Mail to: 5024 Oxborough Gardens
Brooklyn Park, MN 55443-3990
(612) 708 6900
Zoom, zoom zoom!
I've converted all of my private classes onto Zoom during this unusual time and plan to stay that way for the unforeseen future, given social distancing requirements, the age of many of my students, etc. Here are some options to consider!
As you may have read, I'm currently studying to be an Ayurveda Practitioner! I'm currently working on the required patient encounters. Please let me know that if you would like to participate in an Ayurveda consult!  (As I update this as of 2023, I have completed the Ayurvedic Practitioner program some time ago, among other Ayurvedic trainings.)
In a series of Ayurveda therapy sessions, we will work together to determine your unique mind/body make-up which then helps us to find where you're out of balance. Then, considering all aspects of your unique mental, spiritual, emotional and physical life, together we will begin an individualized approach to bring you back to center, back to your true nature.
I would use the Thursday time slot I've mentioned in past newsletters to connect with you via Zoom. Other options are:
Thursday Zoom yoga class at 1:00 PM. The three person minimum would still hold. What are your thoughts? Do you have a couple of friends who'd be interested in meeting with you in a Zoom class? Let's discuss!
Yoga Nidra (often referred to as Yogic Sleep) class on that day. This ancient practice has incredible relevance in the modern world. With an excess of tension and worries, discomforts and uneasiness, fears and phobias, Yoga Nidra is a vehicle to connect deeply to our true nature, to peace, health, and self-awareness. Would something like that interest you? Please let me know!
Six Weeks to Inner Resilience
Also, check out my new workshop—which could easily be converted to Zoom if you have a group that's interested:
Six Weeks to Inner Resilience!
Or if home sheltering has got you wanting to spruce yourself up, you can try my online:
Facial Exercise, acupressure, self-massage class
Turn back the hands of time and learn some basic facial exercises that add muscle tone and a fresh glow to your complexion—and have a lot of fun in the process! No needles or chemicals involved. Be prepared to touch your own face (deciding whether you want to wear make-up to class is up to you!). We'll cover specific exercises for your eyes, cheeks, nose, chin/neck, as well as your overall face. I'll also cover some facial acupressure points, self-massage techniques, skincare tips, essential oil considerations as well as some tools of the trade you can consider. Learn more here.
Have you grabbed your Free
"21 days to optimizing your innate energetic potential" available on my new website yet?
Description: Using various segments from my archived newsletters I provide a dedicated 21 days of easy to do practices, meditations, diet/food recipes and suggestions plus other fun topics to follow along as you get to know your energetic/chakra system! This piece will explain what your seven basic chakras are, why they're important, and how to work with them to bring balance. Just scroll down the "start here" page of my website to then scroll down to the bottom past the "Kind Words" section to enter your email address.)