I love affirmations and use "oracle" decks to provide a positive boost in the morning or whenever I need a lift.  It's my way of telling the Universe I'm open to listening to their message:  "Have at it!"  "I'm listening!"  "Tell me more!"  I hope you enjoy as I introduce some of my favorite cards and quotes in my newsletters!  These make great gifts for any occasion as well as can be used as inspirational hand-outs in class if you are a yoga instructor.
I chose this month's deck after I decided to include Isis in my newsletter.  (See the Chakrascope section above.)  Doreen Virtue's cards and books (of which I own many) have piqued my interest in Egyptian lore, among many, many other subjects!  Doreen introduced me to the magic of Isis, Thoth, and the Eye of Horus featured in the Chakrascope section.  Enjoy getting to know Isis and Horus a little better as the featured cards for yourself!
Description:  By popular demand, Doreen Virtue has created a beautiful deck of cards based on her best-selling book Archangels & Ascended Masters. (Yes I own that too!  Great book!  And it has even more about Isis, Horus, and Thoth!) The deck includes gorgeous paintings of 44 male and female cross-cultural deities, such as Ganesha, Merlin, Saint-Germain, Apollo, Pallas Athena, White Buffalo Calf Woman, Jesus, Moses, Yogananda, Green Man, and Kuthumi. The enclosed guidebook gives expanded explanations of each card's meaning, and a brief history of each ascended master. As with each of Doreen's oracle-card decks, the messages for each card are positive, accurate, and life-affirming.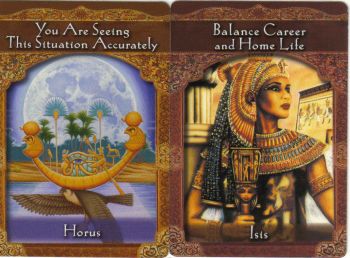 Card #1:  You Are Seeing the Situation Accurately—Horus
Trust your feelings about this situation, because they are accurate and valid.  Let go of self-doubt, even in the face of others' opinions.  Your spiritual sensitivity has helped you see the truth.  Although it may be easier to go along with the crowd, or to shrink to apathy, you're called upon to take decisive action.  You already know what to do.  Even if people aren't supporting you, know that Spirit is.  Other people will soon come around to your point of view.  In the meantime, assume a leadership role.
Additional meanings for this card:  Trust your intuition and gut feelings.  Ignore critics, naysayers, or skeptics.  Avoid situations or relationships that don't feel right to you.  Only you know what is correct for you.
Horus is the Egyptian falcon-headed sky and sun god whose parents were Osiris and Isis.  He was conceived after his mother brought his father back from the dead with the help of the sun god, Ra.  One of Horus's eyes was injured during a battle of revenge for this father's death.  This is why Horus is represented with one large and clear-seeing eye.  You can call upon Horus for help with spiritual or physical sight, including insight into the truth about situations.
Card #2:  Balance Career and Home Life—Isis
You drew this card as a reminder to keep balance in your life. You can do this more easily than you may imagine.  You already know which part of your life is lopsided, and you may be feeling symptoms of burnout from this imbalance.  You can rapidly shift your energy in positive ways by devoting time each day to your priorities.  Even 30 minutes a day spent in meaningful ways will lift your mood, moral, and motivation.
Additional meanings for this card:  Play is a much-needed requirement for you right now.  Make sure that your needs are being met.  Delegate work to others.  Say no to unrealistic demands upon your time.  Be honest with yourself and keep healthy boundaries in your work and home life.  Spend more time devoted to activities that make your heart sing with joy.
Isis demonstrated a perfectly balanced life as a great spiritual teacher and devoted wife and mother (to Osiris and Horus, respectively). Isis is a much-revered Egyptian goddess who symbolizes feminine strength and power.  She can help you find enough time and energy to enjoy all aspects of your life, if you'll ask for her assistance.

About the author:  Doreen Virtue holds B.A., M.A., and Ph.D. degrees in counseling psychology; and is a lifelong clairvoyant who works with the angelic realm. Doreen is the author of Healing with the Angels, How to Hear Your Angels, Messages from Your Angels, Archangels & Ascended Masters, Solomon's Angels, and the Archangel Oracle Cards, among other works. Her products are available in most languages worldwide.
In my very first newsletter, November 2009, I highlighted one of my favorite decks—a wonderfully whimsical, inspiring, thought-provoking Enrichuals© deck, created by local author, artist and creativity coach, Suzanne Vadnais Monson.  Suzanne has graciously agreed to let me make them available on Better Day Yoga's product page online!