I love affirmations and use "oracle" decks to provide a positive boost in the morning or whenever I need a lift.  It's my way of telling the Universe I'm open to listening to their message:  "Have at it!"  "I'm listening!"  "Tell me more!"  I hope you enjoy as I introduce some of my favorite cards and quotes in my newsletters!  These make great gifts for any occasion as well as can be used as inspirational hand-outs in class if you are a yoga instructor.
This is one of the first decks of cards I bought from Doreen Virtue, PhD.   I've always had a fondness toward "the faerie realm".  It was hard to pick my two favorite cards in this deck.  So I chose my wishes for you: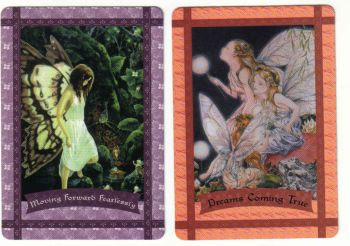 Card #1 (on right) Dreams Coming True
Card Meaning: Your heart's desires are manifesting into reality.  The fairies ask you to hold fast to your faith and expect positive outcomes.
Good news!  The life you've been dreaming of is becoming a reality for you.  Your affirmations, prayers, visualizations, and other positive practices have brought your dreams to fruition.  Now, the fairies ask you to keep the faith.  At this moment, you may be seeing glimmers of your dreams coming true.  These dreams are transitioning from thought-form to etheric form, and then they're solidifying into material form.
To make this transition successful and complete, your continued faith and prayers are needed.  As God and the fairies to help release you of any fears that could cause you to sabotage your success. Know that you deserve this new abundance, and that it will bring much joy to you and those in your life.
Affirmation:  My heart is filled with gratitude and excitement, knowing that wonderful people and situations surround me now.
Card #2 (on left) Moving Forward Fearlessly
Card Meaning: You are making big breakthroughs in your life by putting your Divinely inspired ideas into action.  Trust that you are guided each step of the way.
Those gut feelings, dreams and strong impulses you've been getting aren't just examples of wishful thinking.  They represent the germination of new projects and situations that are vehicles for your Divine life mission.  Don't ignore these gifts from heaven, which come on the wings of repetitive, strong thoughts and feelings.
The fairies ask you to honor your inner feelings by taking at least one step today in the direction of making your dreams and desires a reality.  Fearlessly take one step to dismantle any part of your life that is out of integrity.  Take another step toward realizing your heart's desire.  Even a tiny step that is remotely related to improving your life will make you feel that you're soaring with the fairy realm.  Keep taking one step a day, and soon your dream will be a reality.
Affirmation:  I move forward fearlessly, trusting that each step I take is perfectly guided.
Description: Booklet and 44-card deck inspired by the book of the same name.  Fairies are nature's powerful guardian angels, and they can miraculously assist you with your self-esteem, relationships, health, and career. The fairies will help you find new inner strength and confidence, and guide you in treating yourself with greater love and respect.
In my first newsletter, I highlighted one of my favorite decks—a wonderfully whimsical, inspiring, thought-provoking Enrichuals© deck, created by local author, artist and creativity coach, Suzanne Vadnais Monson.  Refer to the November newsletter archive for a sample card.  Suzanne has graciously agreed to let me make them available on Better Day Yoga's product page online!  https://betterdayyoga.com/products.htm