I love affirmations and use "oracle" decks to provide a positive boost in the morning or whenever I need a lift.  It's my way of telling the Universe I'm open to listening to their message:  "Have at it!"  "I'm listening!"  "Tell me more!"  I hope you enjoy as I introduce some of my favorite cards and quotes in my newsletters!  These make great gifts for any occasion as well as can be used as inspirational hand-outs in class if you are a yoga instructor.
I picked them up on State Street in Madison at my often featured new age bookstore, Mimosa's http://www.mimosaspirit.com/.  If you're ever in Madison, you won't want to miss stopping in!
This month's topic focuses on watching the thoughts in your mind and analyzing where they come from to determine if they're a habit you want to keep.  I thought this card about our thoughts fooling us and becoming the master of our thoughts was the perfect sentiment for the month. This card even touches on using comic relief as part of the solution.  Perfect card for the month!  I show the front and back of one card then list the guidebook's explanation for the card.  The photos on the back side of these cards are absolutely beautiful.  The photos themselves could be used as a contemplative focus.  The words of Buddha and the guidebook explanation have been a constant source of wonder for me.  Enjoy!
Dharma Cards
Product Description:  This beautifully designed set offers a simple approach to meditation, as well as an enjoyable way to learn about one of the world's great masters. Based on Gautama Buddha's Dhammapada or Way of Truth, the kit includes not only 36 illustrated cards inscribed with the Buddha's wisdom, but also an illuminating guidebook; together, they'll help create spiritual harmony in your life. The guide provides an introduction to the Buddha: his birth, search, enlightenment, Four Noble Truths and the Eightfold Path, and much more. It also features information to help you interpret the cards, along with in-depth, individual readings of their text. As you go through the cards, you'll begin to reflect on the questions all meditators ask—about awareness, distractions, serenity—and find encouragement when you feel disheartened.
About the Author:  Priya Hemenway lived in India for many years, where she studied Eastern thought and philosophy, meditation and Oriental sacred scriptures. She has written many books for Barnes & Noble including The Little Book of Eastern Wisdom and The Little Book of Saints.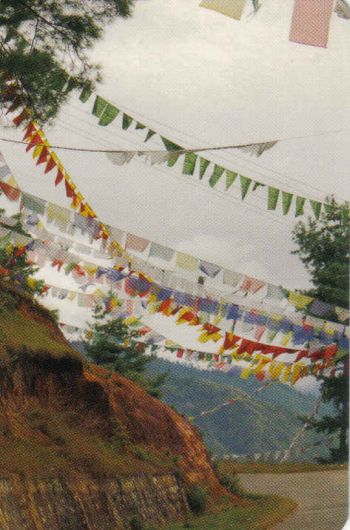 Card verbiage on back: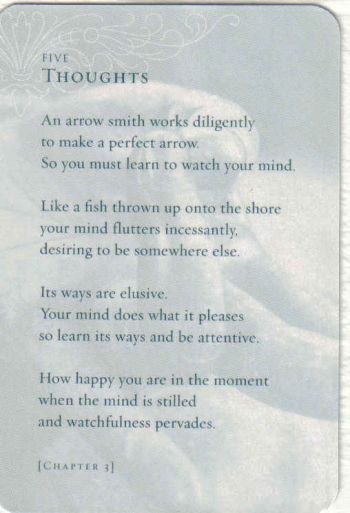 (Five) Thoughts

An arrow smith works diligently to make a perfect arrow.  So you must learn to watch your mind.  Like a fish thrown up onto the shore your mind flutters incessantly, desiring to be somewhere else.  Its ways are elusive.  Your mind does what it pleases so learn its ways and be attentive.  How happy you are in the moment when the mind is stilled and watchfulness pervades.
Guidebook explanation of card:  (Five) Thoughts: 
Reduce your thoughts to objects and your mind will be less powerful.  Look for the arguments you always use, the defenses you create, and the clever way you see things.  Look for the ways in which you repeat yourself and the many times you try to tell someone how well you behave.  If you begin to laugh at yourself you have taken a huge step.
Watch the way you unconsciously move through your life and see yourself like a drunken driver of a car.  You are not in control and you are heading for disaster.  You can't see where you're going and the car has a mind of its own.  Why does this happen?  Are there patterns that repeat?  What are they and how do they set themselves up?  Where did you learn them and why do you not know how to stop?
The human mind is one of the most sophisticated mechanisms in existence and it is capable of such great things.  Allow yourself to become the master and kick that old drunk out of the driver's seat.
In my first newsletter, I highlighted one of my favorite decks—a wonderfully whimsical, inspiring, thought-provoking Enrichuals© deck, created by local author, artist and creativity coach, Suzanne Vadnais Monson.  Refer to the November newsletter archive for a sample card.  Suzanne has graciously agreed to let me make them available on Better Day Yoga's product page online!  https://betterdayyoga.com/products.htm