One of my yoga students is preparing to move after having lived in her beautiful home for, I believe she said, almost 45 years. She and her husband are preparing for their next amazing adventure together! Isn't that how moving should feel? It's been a joy to watch her meticulously organize and pack in preparation week by week. Five other amazing ladies, who have stolen my heart, make up the balance of the yogis in this weekly class held in the basement of her home.
In the process of cleaning out and packing, she accumulated an assortment of treasures in her three-season porch and invited us all to peruse her "Free Garage Sale", as she worded it. This lady is one of the most generous, big-hearted human beings on the planet. I am truly blessed to have her and this whole amazing tribe of loving souls in my life. Did I mention I adore them?
Given her decorating style and taste, I knew that I would most likely find some pieces I had to have, but I had no idea of the treasures waiting to surprise me! She used to own a gift basket business so there were many items relating to that production, as well as gardening and floral décor.
And then it happened. There in the midst of a couple vases and a candle holder was a gorgeous, antique, standing Crucifix candelabra with silver-plate and a holy water font! She had picked up this stunning gem in France! I couldn't take my eyes off of it. It literally oozed good energy like a magnet drawing me in. It was immediate attraction.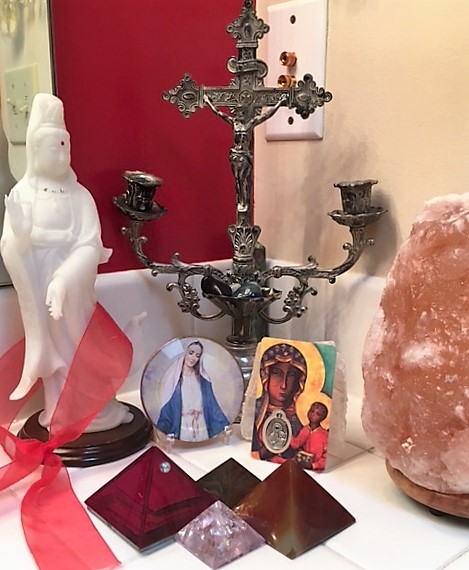 Here you see it as the centerpiece of our "mini-altar". Its energy permeates the room.
I knew I wanted it but thought I should ask my sweet husband's opinion. I casually browsed the rest of her collection.
Then another animated treasure literally stopped me in my tracks. Sitting on the ledge in front of some silk flowers and an index card holder was a sweet, sweet wooden boy she lovingly referred to as "Geppetto". She quickly added that she knows the story goes that Geppetto was the woodworker and Pinocchio was the wooden boy come to life, but Geppetto just seemed to fit for her. She found him in Germany and he pulled her heart strings too. I was completely smitten. Geppetto is decorated in red and green hand-painted attire. Now, anyone who knows me knows how much I LOVE Christmas!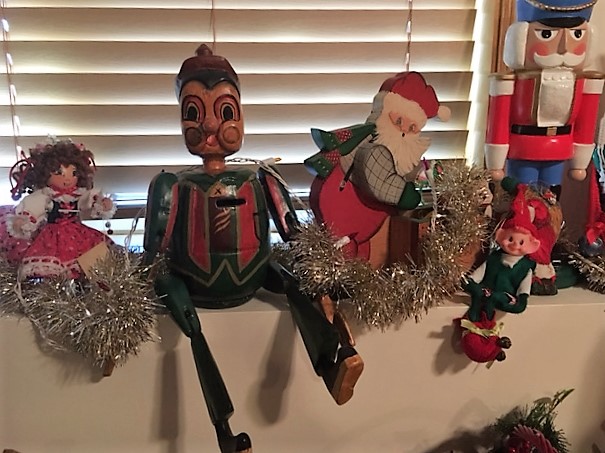 I immediately pictured Geppetto exactly where I have placed him here. (Yes we started Christmas decorating this past weekend in the basement! We have to start early in time for our party, right?)
I swear I heard the spirit of this sweet wooden boy whisper, "Look at me! Look at me!" It was a done deal, no turning back. Sure I would ask my husband's opinion, but we've been married over 33 years. This man knows me. We are on the same page energetically. He'll pick something up in a retail store and two seconds later, without knowing he'd touched it, I'll always pick it up too. It's freaky cool. We are often attracted to the same things. He loved it too, but I knew he would! Geppetto jumped into my arms (okay so maybe I picked him up), and that was all she wrote!
My sweet host was enjoying our extended visit after yoga class so much she asked if I wanted a cup of coffee as I "shopped". You always feel like an honored guest at their house. She embraces you with her warm smile and genuine appreciation, making you feel like you've just been hugged—which, of course, she gifts freely at least a couple of times each visit.
There were a couple of other pieces that made their way home with me that day, but these two absolutely made my heart sing. I could barely contain myself! "My Tuesday gals", as I often refer to them, threw a birthday party for me earlier that month—one of several precious moments we've shared that I will always hold close to my heart. It felt like my birthday all over again that day! I remember feeling a warm, fuzzy glow of contentment the rest of the day because of her hospitality. I treasure the memory. These gorgeous works of art from their home to ours will be a constant connection to a wonderful couple I am humbled and honored to call friend.
I think they both look quite content in their new places in our home. Don't you?
Life is so very precious,
Sandy Krzyzanowski
BetterDayYoga.com