My husband and I went to see Mamma Mia at the Orpheum this past weekend as an early Valentine's Day celebration. We really had a great time!
It's such a fun, uplifting show! You can't help but feel good tapping your feet and singing along with all the ABBA songs. The storyline reminds you that while the choices you make earlier in life affect your future, it's never too late to have your dreams come true. Age doesn't matter when you're heart's in the right place.
I couldn't help but recall the first time we saw the play in Las Vegas several years ago. My company had awarded me a trip because I'd had an exceptionally good sales year. Their outward approval meant so much to me then.
I've been teaching yoga since 2008 and when I left the corporate world in 2009 to pursue Yoga as my career, it was more than a little scary. I knew there'd be less income, but the reasons to leave were more compelling than the reasons to stay.
As I sat in the theater this past weekend, tears came to my eyes as I remembered how confirming it was to be given that trip as a sales award. I'd felt like I'd "arrived". Since 2009, I've steadily grown my yoga career and progressed to having in-home private residence and on-site corporate classes. My old corporate boss used to say "nobody ever went out of business because of low overhead." I've been working "lean"—perhaps too lean at times. I realize that maybe I need to take a few more risks going forward. Risk-taking has never been my strong suit, especially as I've gotten older!
Recently I achieved certification as a yoga therapist through the International Association of Yoga Therapists. I've been working toward that goal for a long time. So the Mamma Mia play was a two-fold celebration. Again, there's that outward "nod of approval" that I still must need.
I realized the tears that came to my eyes in the theater this past weekend were not so much for remembering "then" as it was affirming "now". "NOW" I was at this play because I chose to, because we wanted to reward ourselves, because we deserved it. So we did it. No outward approval required. It came from within this time. And being with my husband of almost 34 years having a blast was, as always, priceless!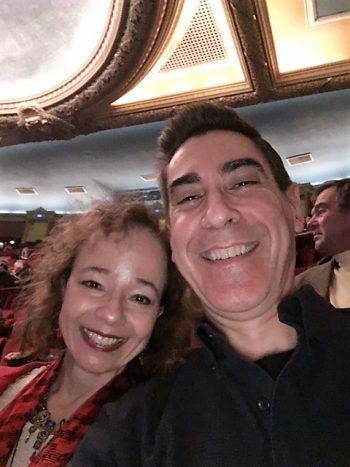 I would love it if you would subscribe to my blog/newsletter. I don't publish on a regular timetable so subscribing is a good way to make sure you don't miss out on any amazing posts such as this one! (Poking fun at myself. 🙂 ) You'll also be the first to receive updates, resources, and more. I'll even give you a free gift! 🙂 Click on the "FREE Chakra-Balancing & Loving Kindness Meditation!" link in the right-hand column. Thanks!