30 years ago today my mom passed away. It's hard to grasp just how long it's been. It seems impossible. I can still remember how she used to say my name with her Polish accent—both when she was happy with me (Sandy) and when she wasn't (Sandra!). Some days I worry I'll forget.
I've held April 11 close in my heart. This day has always been personal, safely guarded from anyone but my closest family and friends. I've chosen to celebrate life vs. death anniversaries. Yet and still, it's impossible not to acknowledge when April 11 comes around each year. It's impossible not to remember. There's a silent nod, a spiritual awareness of the sacredness of her passing and the effect it had on my life.
I remember thinking the "11" was like an opening with borders left to right, a doorway of sorts, a gateway to heaven perhaps. The two numeral "ones" just stand there stark and cold. At least that's how it seemed 30 years ago.
I wondered how the world could simply go on, how we could all just go on. It felt like the world should stop somehow, for a moment at least, to pay honor to this soul that had passed. The usual ceremonies (the wake, the funeral, the gathering of close friends and family, the burial) weren't enough closure for me at the time. I'm not sure anything at that time would have felt like closure. It was so raw for so long. An open wound that wouldn't heal.
I spent the week after the funeral with my dad trying to put their house in order and prepare him for taking care of all the details mom used to do. No matter how many notes I wrote, and taped instructions I adhered to appliances, I knew it would be a rough road for him. I called him daily for a long time just to let him cry. You see, while they had many fights in their lifetime, they had a common history—both were born in Poland and both were prisoners of war in Germany during World War II. They met in a displaced person's camp after the war. I know their experiences in Germany resulted in post-traumatic stress (PTS) and I know their many fights were rooted in PTS. Deep down I also knew they both loved each other. It always surfaced when the other needed it most, like right before mom died.
None of us knew mom had cancer until the autopsy. She went into the hospital with pneumonia and was released a week or so later, but she wasn't getting better. She wasn't eating well. A standard blood test showed something major was wrong and she was rushed back into the hospital not too long after she was released.
I received a panicked call from my sister-in-law that I should come home right away on the same Saturday my husband and I were expecting his parents and brother to arrive at our home. It was a five hour drive from their farm in Indiana to Wisconsin where we lived. Cell phones weren't common back then. We had no way of reaching them. We waited for them to arrive only to immediately jump in the car and drive the same five hours back to my mom. I found out my mom had passed away from the attending nurse when I called from a phone booth on the way home to Indiana. While no one was able to really say "goodbye" because no one knew she was about to die, I struggled with not making it home before she passed for years. It still bothers me.
This year's anniversary seems more poignant than most. My step-mom, Prudy, passed away last Thursday. She met and married my dad several years after my mom had passed—somewhere around 1994 or 1995. They were married less than ten years with the last few being really rough on Prudy as my dad developed Alzheimer's. He passed away in 2003, the year my husband and I lost both of our dads. She was a source of great comfort for my dad and a huge blessing in all of our lives.
My husband and I became quite close to Prudy over the last 20+ years. She was a dear, sweet, adorable, fun, wise and trusted friend. It's a different kind of relationship with a step-mom, especially when you're already an adult when you first meet. There's none of the drama in your history. She filled our lives with much joy and we so enjoyed all of our visits and long talks. I think I was lulled into believing she would live much longer than her 91 years.
Maybe all these years I've kept the anniversary of my mom's passing personal and close to my heart because I didn't want to re-visit the open wound. Maybe I was afraid to stir up the emotions, believing the memory wasn't as raw as it once was because I just didn't go there; or perhaps couldn't go there. They say sometimes you don't feel the full blow until you're ready to handle it.
This year's anniversary of my mom's passing is still personal—still held close to my heart. But this year I'm feeling it so much deeper because I couldn't help but "go there" this year. This year April 11 came on the heels of another loss. My guard was down. This year it's shared with the loss of my very last mom and I can't contain my emotions. My first mom passed in 1987 when I was just 27. My second mom (in-law) passed away April 30, 2015. April has taken all of my moms and I can't help but feel like I've lost my last anchor.
I'm so very lucky to have had three moms and I am oh so grateful to have had each and every one of them in my life. God must have known I'd need extra. Their memories will serve as my anchor now. I will always remember.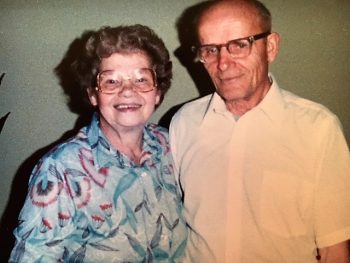 Mom and Dad