Two nights ago, my husband and I watched a Hallmark Christmas movie about Reindeer Lodge. Reindeers were hailed as a sign of true love. I've read they are also a sign of positive things coming into your life like new beginnings, good news, and even new love. They remind you that you have the ability to achieve whatever you want as long as you come from the heart. (Source:  http://dreamstop.com/reindeer-dream-symbol/ )
I've always found flying reindeer to be as magical as those depicted in so many Christmas films. We own two magical prints that we display during the Christmas season. This year the one entitled "Earth Magic" has fallen off the wall twice now….reread that. "Earth Magic has fallen to the earth" as if to say "I'm bringing magic to the earth this time of year". The other one entitled "Caribou Moon" also fell once—probably around the time of the recent full moon now that I think about it. Why they fell isn't as important as the fact that they fell. They make a stunning presence on our wall but this year they are making a statement I think we all need to hear.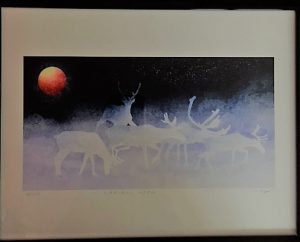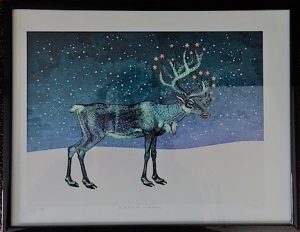 Caribou Moon                                                                                                Earth Magic
Did you know that reindeer used to be plentiful further south across the world in ancient times and in the U.S. as far south as Nevada and Tennessee?  There's more: "Throughout the grasslands of northern Mongolia and southern Siberia are planted hundreds of stone pillars, ranging from three to fifteen feet tall, with carvings that seem to show reindeer in flight. The stones have been dated to approximately 3000 years ago. The Reindeer and its association with the sun is an important element in Siberian Shamanism.
That is interesting on its own, but what's even more intriguing is that, because of climate change, at the time these stones were carved, it had been a thousand years since actual reindeer lived in that local landscape. The people who carved these flying reindeer on the stone pillars had likely never seen a reindeer." (Source: http://www.drummingthesoulawake.com/blog/reindeer-in-the-dna-of-the-land)
Flying reindeer are part of actual history? How cool is that?! I like to think they did see them or at least believed in the stories told of them by their ancestors. Who's to say?
How much magic have we overlooked thinking we need facts? The solstice is tomorrow celebrating the darkness as we wait in anticipation for the return of the light. Be open to the magic this time of year. Look up! Merry Christmas!