Crack Open the Magic!
There's something about St. Patrick's Day that brings with it the magic of the leprechaun. I have had a love affair with the wee folk since I can remember. I truly believe in magic and I know that belief allows my life to BE magical. Why would the magic come visit someone who doesn't believe? You're only open to receiving what you believe in and by the belief, you invite the magic of it in. Energy goes where attention goes, right? If you're not aware of the energy, it will go by unnoticed. (As an aside, when you listen to your body's messages, during your yoga practice, by tuning into the subtle body, you are exercising the intuitive muscles that allow you to be receptive to subtle energy, a.k.a magical energies. Interesting, isn't it?)
I recently brought up my affinity for elves, fairies, and all things magical with my hairdresser. I think we were talking about spirituality and beliefs at one point and then as she came back after whipping up my hair color, I shared my new Instagram artist find: @theworldofjamesbrowne. His art focuses on magical beings, elves, gnomes, the man in the moon, mermaids, tree spirits—you name it. His work melts my heart. Who knew I had a kindred soul in my hairdresser who also had an affection toward the wee folk? Come on, you know you want to believe. Just let it happen. It won't hurt. There's a huge market for adults who follow Harry Potter books, Avator movies and the like. So you're not alone. Judging by James Browne's 38.6k followers, I suspect there's more than a few of us out there.
When my hairdresser and I got to talking about magical beings, I shared the joy of finding my old childhood Golden Book of "Fairies and Elves" online some years ago and how I was brought to immediate tears when I received it in the mail and opened it. There within the pages were all my old friends waiting to mesmerize me as they had in years past. I knew every centimeter of that book's art as though I were still the same child engaged in a trance as I gazed upon its pages. It carried me right back to my childhood. My husband knew to leave me alone in my reverie and when he heard me whimpering a bit later, he asked from the other room if I was okay. I mumbled through tears, "I'm reading about the magic slippers."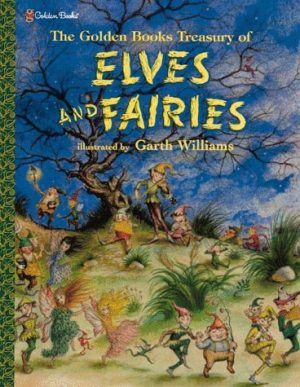 Well, I must have triggered my hairdresser's inner child too because while my color was "setting", she found the book on eBay and ordered it! The whimsical belief in all things magical is contagious! I dare you to look up James Browne's art and not be drawn into his world of awe and wonder. The illustrator from my childhood book, Garth Williams passed away in 1996. I just read he was the Stuart Little illustrator—another beloved book. James Browne's art leads me down the infamous rabbit hole in much the same way as Garth's illustrations do; and for that, I am so very grateful. We all need to visit that world more often. I know I do. How about you?
Since I trust my hairdresser implicitly, I also shared my fairy-sighting story. I wrote about it here. That post goes over all of my favorite magical movies too. I hope they'll instill some magical moments.
So as St. Patrick's Day approaches, be open to believing. Let the whimsy take you back to a time in childhood when magical elves and fairies were your confidants, when the moon smiled back at you with a wink and a nod, and when anything was possible. Happy St. Patty's Day!
Where you'll find me next
I have the honor and privilege of participating at the Women Veteran's Conference again this year! I will be teaching a yoga class vs. exhibiting this year!
DATE AND TIME
Sat, May 26, 2018
7:30 AM – 5:00 PM CDT
LOCATION
Ramada Plymouth Hotel and Conference Center
2705 Annapolis Lane North
Plymouth, MN 55441
DESCRIPTION
We are honored to host retired US Army Brigadier General Pat Foote as the keynote speaker. We will also offer a variety of informative breakout sessions including VA Healthcare/VA Benefits, yoga and holistic therapy. Breakfast and Lunch will also be available for free.
One of the projects featured is the 'I'm Not Invisible" campaign, an awareness campaign designed to honor our women veterans and educate the public about some of the unique challenges women veterans face when they come back from their service. Now they are ready to unveil the campaign to the public, with a portrait exhibit featuring 33 of Minnesota's women veterans and a multimedia PSA campaign.
Please join us, INVITE ANOTHER WOMAN VETERAN. Click here to register.
Thank you for signing up for my newsletter. I appreciate each and every one of you. 
Sandy Krzyzanowski
Better Day Yoga, LLC