A couple of days ago, one of my mentors, Indu Arora, posted about "Nava-Ratri". She started her post saying that "In Vedic Texts, the feminine is celebrated in many divine forms and one of them is Durga. Four times a year there are nine days and nights which are considered to be filled with nine forms of divine energy each of them symbolizing a form of Durga."
So I've been dwelling on "Divine forms of energy". Along with the Blessed Virgin Mary (my mantra in my morning meditation is the "Hail Mary"/ "Ave Maria" salutation), I believe Quan Yin, Tara, Athena, White Buffalo Woman, Lakshmi, and yes Isis, among others, all embody the "Divine Mother"—the loving, nurturing, magical healing energy. I believe they are different representations of the same energy and embody different forms so they'll appear in the correct form for you to accept.  We are only open to that which we believe in—yes?  So why wouldn't "Divine Mother" energy embody many forms for all the world to appreciate?
Today I realized these many forms of Divine Energy are not that unfamiliar to this Catholic girl. They have roots in my history. Marion apparitions have influenced the Catholic Church and the lives of millions of Roman Catholics for thousands of years. These supernatural appearances sometimes appear to an individual or a few people a majority of the time, and sometimes to thousands of people over a period of time. Some of the apparitions have even received a "Canonical coronation" from the Pope, crowning the holy image. These Divine apparitions of Mary are often named after the town where it is reported, such as Our Lady of Lourdes, Our Lady of Fatima, Our Lady of Guadalupe; and my Polish heritage Madonna, Our Lady of Czestochowa. Other times, the Divine image is given a "nickname" of sorts calling out what her appearance is most noted for in that instance, like Our Lady of the Miraculous Medal.
I grew up with a childhood book about Saint Bernadette Soubirous and Our Lady of Lourdes. Sadly, I didn't take it with me as an adult on my own. So it's lost (but I just ordered what I hope to be an old copy of the same book!). I read that book over and over and over. I was enamored with Saint Bernadette and Our Lady of Lourdes. This is a prayer card I own: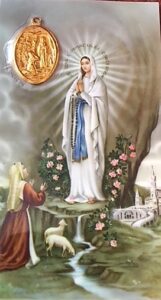 I've written about Quan Yin and The Virgin Mary before (reposted in the post below this one). Fairly recently I realized that not only do I consider Quan Yin and Mary of the same Divine Energy, but Our Lady of Lourdes is the version of Divine Energy I associate with Quan Yin because they both have a water element. As I pray my Hail Mary's and the mantra associated with Quan Yin, "Om Mani Padme Hum" (which means "Hail to the Jewel in the Lotus"), I envision them both pouring their water over me as well as my husband when I share Reiki with him. We had a wedding day photo taken at the Grotto of Our Lady of Lourdes at the University of Notre Dame in my home town. As my regular readers know, this grotto has a special place in my heart because my dad worked at Notre Dame when he first immigrated to America after WWII. He helped with the stonework on the grotto. So I find my visualization of water pouring over us very protective and comforting.
I also had two Miraculous Medals growing up. One of which I still have—I gifted the other to a friend in need. Catherine Labouré and the story of the Miraculous Medal became another one of my favorite stories. Another prayer card is pictured here: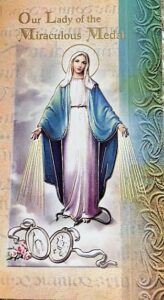 We visited the Jasna Góra Monastery in Czestochowa when we went to Poland on our first trip there and purchased the framed picture below. The image of the "Black Madonna" also known as Our Lady of Czestochowa, is considered to have miraculous powers and is shrouded in numerous legends which trace the icon's origin to St. Luke who painted it on a cedar table top from the house of the Holy Family.
During our wedding ceremony we were gifted a framed picutre of another artist's version of Our Lady of Czestochowa by the priest that married us, Father Steven Avella. At our wedding, he said he felt like the Pope at the time, Pope John Paul II. The Pope was Polish and surrounded by Italians. He was Italian and surrounded by Poles at our wedding. (My husband and I are both 100% Polish as were many of our guests!)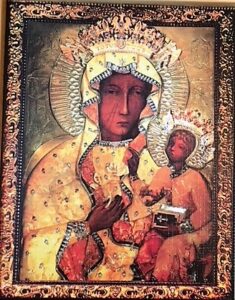 As we celebrate the first day of spring and Easter approaches, I'm reminded of the many flowers associated with the appearances of the Blessed Virgin. The rose has symbolized Mary since the earliest times of the Church. Our Lady of Guadalupe is associated with the "Miracle of Roses".
Another flower associated with Mary is the lily, sometimes called the "Madonna Lilly", which is often depicted in paintings of the Madonna and often seen during the Easter season when they represent the Resurrection of Christ. For those who may be unsure of my "Goddess" association the Catholic religion and Mary, let me remind that the name for "Easter", Christianity's most important holiday, comes from the pre-Christian Goddess Eostre, Ostara or "Eastre" who was celebrated at the beginning of spring.
How do you connect with the Divine? What are your rituals? How do you make your beliefs come alive and meaningful? This is my meditation. This is my way.