Let's start something amazing
at Nola's!
A little over six years ago the building my yoga studio was located at in Roseville, MN was bought out by a nursing home; and my second location's owner lost her lease. She moved to a location with no room for yoga. All this happened within one week's time. My next location was only available for what seemed like half a second. The owner closed shop—I was renting space. One of my regular yoga students approached me to start teaching at her friend's house and a new business model was born! I've since expanded into on-site corporate yoga as well.
If you follow my blogs, you know I follow the signs sent from the Universe. I never thought going in-home private (and now also on-site corporate) was going to be my only teaching venue; but I am oh so grateful for the student who suggested it! It has and continues to be a perfect business model for me!
Another excellent opportunity!
It seems the Universe is bringing me another excellent opportunity and I couldn't be more excited! Recently a local restaurateur, Kavita Mehta of Nola Restaurant in Osseo, MN, asked me to consider teaching yoga at her event center there. When she shared that the roots of the dishes served at Nola's are rooted in the ancient Chinese, Indian Ayurvedic and Unani health systems, well I sat up and took notice!
Ayurveda is the sister science to yoga and another love of mine! Healthy eating, based on Ayurveda, is part of my training and is the backbone of the YogaLean Workshop I offer! Kavita's offer for me to teach yoga at Nola's was something I had to consider!
We are hosting a free yoga class Thursday at 10 AM on October 4th to kick this off!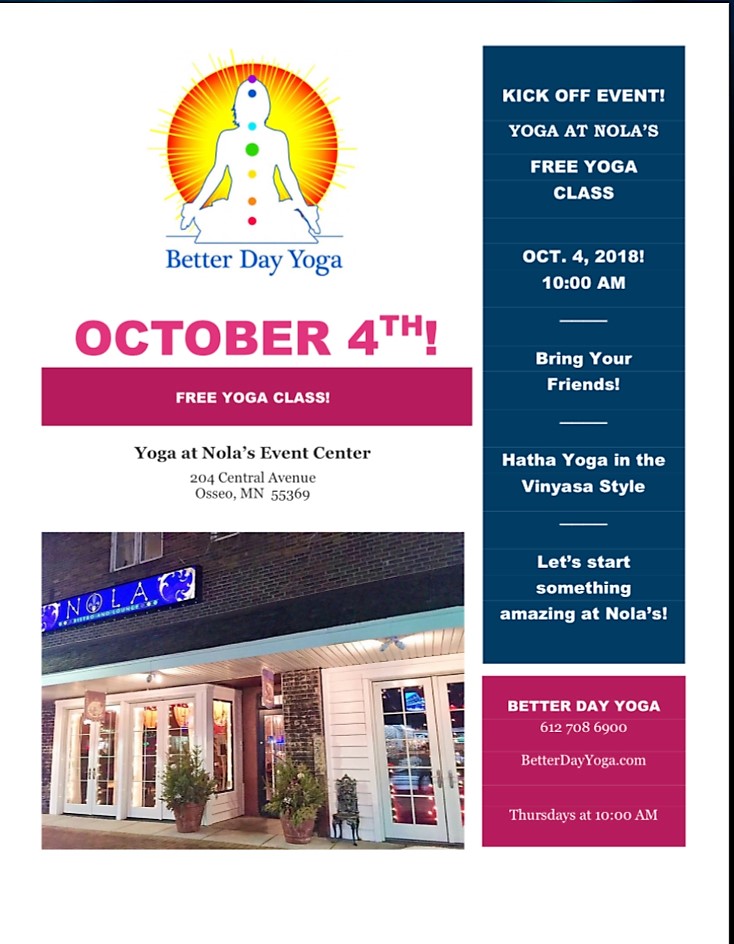 For rates and dates going forward, please click here. Please join us and bring your friends! I'm really looking forward to expanding here with this partnership! Let's start something amazing at Nola's!
~~~
While I have you! Check out my links page!
Artist highlights:
Beatles fan? Love George Harrison's "While my guitar gently weeps" song? Check out this "Weeping Guitar" art print by Erica Free! (She's the top link on my site) It comes in two sizes! Can you say early Christmas shopping?
Have something special to commemorate? I used to buy Neil Diamond albums whenever I accomplished something major: new job, promotion, completion of a major goal, etc. Lately I've been buying a mala to commemorate my accomplishments since my focus has been on all things yoga for the past several years.
Please check out my favorite local yoga teacher's link at YogSadhna—Beautiful malas!
(I still love and adore Neil! He just released Hot August Night III!)
~~~
I hope to see you at one of my venue's soon! Thank you so much for subscribing to my newsletter! I appreciate each and every one of you!
Namasté,
Sandy Krzyzanowski
Better Day Yoga, LLC
~
Mail to: 5024 Oxborough Gardens
Brooklyn Park, MN 55443-3990
(612) 708 6900
http://www.facebook.com/betterdayyoga
https://www.instagram.com/sandyatbetterdayyoga/