I love this time of year. Magic permeates the very air we breathe. It's in the Christmas trees all lit up with sparkly lights and decorated with personal mementos of Christmases past. Have you noticed the Christmas energy emanating from your tree during the season? Take another look.
When I was younger I used to pass the time just staring at our childhood tree—day or night. I'd come up close to an ornament to see how big my nose would look and back away slowly, enamored with all things Christmas. My parents didn't always get along—(enough said here). Yet I still found solace in this holiday. I'd sit on the floor in my bedroom, after having lit a Christmas candle on the dresser, and gaze upon it as I rocked and sang all the Christmas songs I knew. The spirit of this season soothed me.
One year, our neighborhood association sent out invites for a Christmas caroling party. I was in! We sang at each household and ended with hot Christmas punch at one of the neighbor's houses. I was in love with this tradition! Mental note to my younger self: "I'm doing THIS again!"
As I progressed into young adulthood, I'd find myself parked in my apartment parking lot just staring at the house lights around the neighborhood taking it all in before I went inside. My Christmas meter never got full this time of year. It was then that I started decorating for Christmas and writing my own Christmas cards. I still have pieces from my first apartment that I use today. A blue Charlie Brown ornament comes to mind.
During college I gave a speech on December 6th (St. Nicholas Day) in my speech class. Of course it was about believing in Santa. I ended with some lyrics from The Statler Brothers Christmas song,
"I Believe in Santa's Cause"
Never heard a snowman talking
Never seen a reindeer fly
Nor seen a wooden soldier walking
Nor met Santa eye to eye
Now there are those who don't believe
In miracles or Santa Claus
But I believe what I believe
And I believe in Santa's cause
My teacher liked it so much he invited me to say it at the Beiger Mansion in my hometown for a Christmas function. I was so honored!
My husband and I just celebrated our 36th annual Christmas party. We decorate every corner of our house—even the bathrooms! There's bells on the door that jingle when you walk in, a zillion Santa's throughout the house and the scent of "The Smell of Christmas" potpourri permeates the house. Yes I still believe in Santa. Why wouldn't you? He's the spirit of Christmas. Of course, there's a big turkey dinner AND we go caroling, for those who are game.
Sadly, we've been noticing less and less people coming to the door each year when we go caroling. You know how some say certain things are going to become a thing of the past? Answering your door for Christmas caroling, we feared, was going to the wayside.
This year we tried another direction and we had so many come to the door and joyously direct our music, some taking photos and videos, some taking a selfie with us in the background. Yes! People will still come to the door to share in a brief Christmas moment! It renewed our belief in the Christmas spirit. We all just need a little magic. God bless those lovely souls!
By now, you've realized how much Christmas means to me. I know I'm not alone. I still send handwritten Christmas cards to many of the same people I knew over 20 years ago. Isn't that was Christmas cards are for? To remind those who were special in your life that they still matter, that there's still a place in your heart for them, to wish them a Merry Christmas—it's my Godmother's sister, my oldest friends and some of my past bosses, my long lost relatives. They will always have a special spot in my heart because they touched my life. Time won't change that. It's like a "Christmas card contract" for me that says "I will always love and care about you."
You won't get off my Christmas card list unless you haven't sent me one in a couple years (and even then I still send them to certain special friends and relatives because it makes me feel good.) Our incoming Christmas cards have dwindled over the years. This saddens both of us. We still remember all of those on our list this time of year. We still send silent Christmas prayers to those who have passed and mental Christmas hugs to those who're just too busy to continue the tradition. We will still always love you. Merry Christmas dear friends.
I hope to see you either digitally online or in person in 2019. I'd love to work with you.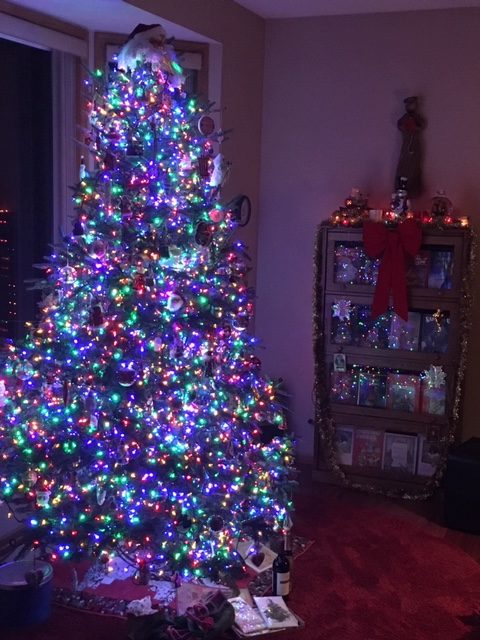 ---
New Year's resolutions on your mind?
YogaLean 12-week Transformation!
Looking to make a change? Are you searching for real transformation in your life? Do you want to lose weight and gain vitality? Hoping to de-clutter both physically and mentally? Are you curious about learning to meditate for greater serenity? Join the YogaLean 12-week Transformation! This workshop is available as either a private residence group class or on-site corporate class. (As I update this in 2023, my offering is now called Six Weeks to Inner Resilience.)
Namasté,
Sandy Krzyzanowski
Better Day Yoga, LLC