Hello everyone!
Happy 2019! How has the year started off for you? Getting back to our usual routines can be a blessing, can't they? The end of the year is a whirlwind of activity, throwing us off our usual routines; and perhaps leaving us tired in mind, body, and pocketbook.
Some of the aftereffects can show up as less patience, feeling less grounded or even lethargic. When this happens, I know I've quit listening to Spirit and need to get back to my usual, very simple routine rituals that invite Spirit into my life.
So I'll be writing a series of blog posts on easy ways you can bring simple rituals into your daily realm that take no more than a few minutes. If one doesn't resonate with you, perhaps the following week's will. Consider it my New Year's gift to you, my readers.
Don't worry, I won't be emailing you weekly! Am I the only one who thinks some of the emailing has gotten out of hand? You can check out my blog page weekly here —the same page you go to for the current newsletter which IS sent via email once a month or so.
I'll also be posting the intro to the blog with the same link on my Better Day Yoga Facebook page here as well as on my Instagram page here.
I hope you'll join me. At the very least, you'll gain some peace of mind and spirit while reading the post and perhaps you'll acquire a new favorite ritual to carry with you into 2019.
To start you off, here's my favorite, perennial ritual that creates an immediate meditative moment first thing in the morning while putting on your make-up, bathing, shaving—you get the idea. We all use the restroom in the morning, right? It's real, real simple:
Light a candle,
Perhaps light some incense (if that's something that resonates with you) and
Say a small prayer or affirmation.
If you've chosen incense, let the smoke waft over you as though you're sending yourself a blessing from Spirit. My husband and I both love Palo Santo wood. It doesn't burn for long after being lit, so it's a quick blessing and smells so amazing!
All wood scents are very grounding. They come from a tree, so you are being surrounded with the grounding energy from the tree's innate ability to root down deep into Mother Earth.
My favorite short prayer to say when I light a candle comes from Ernest Holmes (The Science of Mind):
"Perfect God within me, Perfect life within me which is God, come forth into expression through me as that which I am."
I memorized that prayer years ago. There's not a time I light a candle (which I do at least once a day) that this prayer doesn't come to me automatically, silently repeating in my mind. It sets the tone for my day immediately.
See, I told you it would be simple, only take a few minutes and fit right into your daily routine. I wish a grounding peacefulness to embrace each and every one of you as you start your day. Until next time!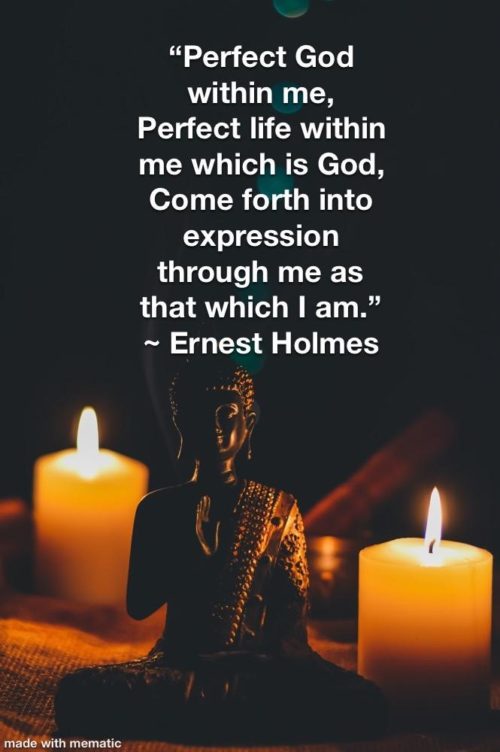 ---
New Year's resolutions on your mind?
YogaLean 12-week Transformation!
Looking to make a change? Are you searching for real transformation in your life? Do you want to lose weight and gain vitality? Hoping to de-clutter both physically and mentally? Are you curious about learning to meditate for greater serenity? Join the YogaLean 12-week Transformation! This workshop is available as either a private residence group class or on-site corporate class. Details here.
---
Adding to my Ayurvedic studies!
I'm deepening my Ayurveda training through Yoga Veda Institute's Ayurvedic Health Counselor program! Four years ago I studied with Cate Stillman in a 9-month program called "Living Ayurveda" and it's time for more!
Ayurveda literally translates to "Science of Life". Ayurveda is a Vedic Science that's a 5000 years old traditional science designed to bring the body back to balance in order to heal from within. Ayurveda incorporates nutrition, lifestyle, breath practices and more to bring you to balance—mind, body, and spirit.
The YogaLean program I detailed above incorporates Ayurvedic science as well. If you're curious, please check it out or go to that page on my website for links to quizzes to find out your Ayurvedic body type/individual nature/dosha.
Each person is a unique combination of the five elements and we each have a different proportion of each existing within our personal make-up. Vata is predominantly Air and Ether, Pitta is predominantly Fire and Water, and Kapha is predominantly Earth and Water.
Being aware of your dosha allows you to identify protocols used in Ayurveda to align with nature—both your internal nature and your external environment such as seasonal cycles and circadian rhythms. It helps you to really hone and own your best assets!
Curious? Schedule a one-on-one Yoga Therapy appointment with me and we can discuss your unique health and wellness!
Please feel free to share my blog series or YogaLean program page with your friends! I would be most grateful! Happy 2019!
Namasté,
Sandy Krzyzanowski
Better Day Yoga, LLC