Hello everyone!
Summer's almost over and I've been busy! Great news!
My website has been undergoing an upgrade behind the scenes these past few months. So I've been holding off on my blog while contributing toward that effort. I am super excited!
One of the new free giveaways on my newly launched site will be "21 days to optimizing your innate energetic potential". (Go here and then scroll down to the bottom past the "Kind Words" section to enter your email address.) It takes about 21 days to establish a habit, right? Well, I've gathered various segments from my archived newsletters to provide a dedicated 21 days of easy to do practices, meditations, chakra-specific diet/food recipes and suggestions plus other fun topics to follow along as you get to know your energetic/chakra system!
This piece will explain what your seven basic chakras are, why they're important, and how to work with them to bring balance. Why?
· This system works with your ability to remain grounded and secure, enhances your creativity and expression, encourages your will power and focus, helps you find your voice perhaps for the first time, connects you to your gut instincts and intuition, and inspires you toward harmony, compassion and oneness.
·       Because of the mind/body connection, our energetic system/chakras help us bring balance to your whole system—physically, mentally, and spiritually.
·       Knowing what each chakra/energy center does, you'll be able to pinpoint areas in your life you'd like to heal and/or strengthen.
·       Becoming aware of the fundamental power contained within each center allows you to better achieve your chosen goals and life-purpose or perhaps understand why your path in that direction has been stymied.
·       Building a solid base while working with the more physical energy centers allows growth up the channel to your more spiritual energy centers.
·       Being aware of your habitual energy blocks is the first step toward allowing you to choose how to clear the way toward your innermost desires. You don't know you have the power until you know what that power is, right?
·       You'll have fun! Having fun is part of the process! Having fun allows you to release accumulated stress and trust the process of growth.
Thanks for being a subscriber to my newsletter—and if you're not, please sign up the right now for your first free gift: My chakra balancing and loving kindness meditation offer is here just under the top photo in the yellow box! Subscribers will be the first to know when my new website is launched and have immediate access to my new giveaway outlined above! See you on the new site!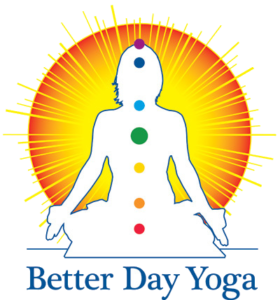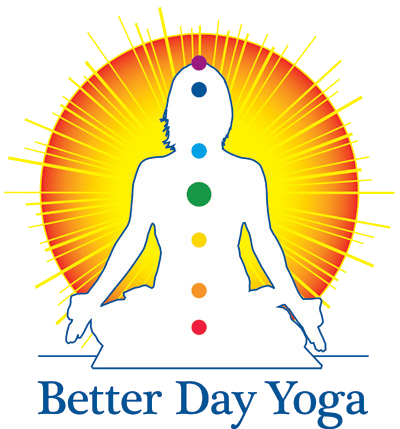 Namasté,
Sandy Krzyzanowski
Better Day Yoga, LLC