Hello everyone!
I personally celebrate and love this time of year for so many reasons and wanted to share my heart-felt thanks for your being here with me now, reading this. It means the world to me to have you on the other end. Really it does.
Thank you for all that you are and all that you do.
You make all the difference in my life. I wouldn't be here without all of you!
I appreciate each and every one of you!
Merry Christmas, Happy Hanukkah, Happy Holidays to all of you!!
I am re-sharing a post I wrote some time ago. It has been my final relaxation reading all this week. I hope you enjoy it:
Release to the magic of Christmas
Sitting in the glow of the twinkling lights of my Christmas tree, I release to the magic. Ever since I was a child, I have been aware of the magic of Christmas. No, it's not the promise of presents, but the promise of an ever-growing goodness that permeates the world this time of year. It tickles you from the inside reminding you there is something more. When enough of us focus on peace and goodwill, even those who aren't sure why will feel it and be aware of its presence.
This presence supports you with a sense that no matter what turmoil is in your life, love will accompany you. No matter how ungrounded and frazzled your outer world becomes, your inner Christmas remains unshaken.
Just as some beloved Christmas stories depict Santa's sleigh to be powered with Christmas cheer, it is this Christmas magic that recognizes and awakens the magic always residing within. It is an energy you can't touch or hold, but you know deep inside that something magical is empowered this time of year.
Just as the grandfather clock's pendulum begins to swing to the same rhythm of a nearby rocking chair, every effort of good will synchronizes with all the others. Every effort of goodness, no matter how small, lights the indwelling goodness within each of us—the bell ringer on the corner, the cards sent to friends and family, the gifts chosen with love, the carols sung, and the prayers said. The rituals of family—baked cookies, trimmed trees, favorite holiday movies watched and shared, candles lit, photos taken capturing the moments—each and every action entrains with all others building a magical energy we call Christmas.
Let the magic of Christmas envelope you and release to its loving presence. Let it empower you from within and relax in the glow of your own inner goodness. Recognize your inner wellspring so that others will recognize theirs. Just as you shine your goodness out, others will be empowered to shine in kind. Merry Christmas!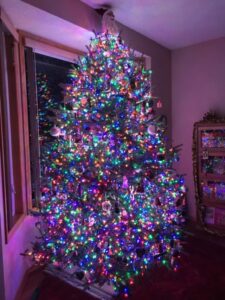 And my favorite e-card!  http://www.jacquielawson.com/viewcard.asp?code=2007134554829&source=jl999
Namasté,
Sandy Krzyzanowski
Better Day Yoga, LLC ~Mail to: 5024 Oxborough GardensBrooklyn Park, MN 55443-3990
(612) 708 6900 www.betterdayyoga.com
Website update:
My new website upgrade is still in progress but getting real close! Thank you for your patience with my lack of correspondence. It will be worth the wait! I promise to be more consistent with my blogs (but not too many, of course!) once my new site is up and running. I hope you've missed me. 🙂
As mentioned in my last email:
One of the new free giveaways on my newly launched site will be "21 days to optimizing your innate energetic potential". It takes about 21 days to establish a habit, right? Well, I've gathered various segments from my archived newsletters to provide a dedicated 21 days of easy to do practices, meditations, diet/food recipes and suggestions plus other fun topics to follow along as you get to know your energetic/chakra system!
This piece will explain what your seven basic chakras are, why they're important, and how to work with them to bring balance. Why?
· This system works with your ability to remain grounded and secure, enhances your creativity and expression, encourages your will power and focus, helps you find your voice perhaps for the first time, connects you to your gut instincts and intuition, and inspires you toward harmony, compassion and oneness.
·       Because of the mind/body connection, our energetic system/chakras help us bring balance to your whole system—physically, mentally, and spiritually.
·       Knowing what each chakra/energy center does, you'll be able to pinpoint areas in your life you'd like to heal and/or strengthen.
·       Becoming aware of the fundamental power contained within each center allows you to better achieve your chosen goals and life-purpose or perhaps understand why your path in that direction has been stymied.
·       Building a solid base while working with the more physical energy centers allows growth up the channel to your more spiritual energy centers.
·       Being aware of your habitual energy blocks is the first step toward allowing you to choose how to clear the way toward your innermost desires. You don't know you have the power until you know what that power is, right?
·       You'll have fun! Having fun is part of the process! Having fun allows you to release accumulated stress and trust the process of growth.
Thanks for being a subscriber to my newsletter—and if you're not, please sign up the right now for your first free gift: My chakra balancing and loving kindness meditation offer in the right hand margin of my current site! Subscribers will be the first to know when my new website is launched and have immediate access to my new giveaway outlined above! See you on the new site!