I started teaching yoga about nine years ago. There are two yogis in particular, LaVonne and Bebe, who have been coming to my classes since that time. Needless to say I absolutely adore them! We've become great friends!
Last year I had the utmost honor to work with LaVonne one-on-one as she battled cancer for a second time in her life. This time it was terminal cancer. There was no cure. She was a breast cancer survivor, so this news hit her and her family quite hard but they rose to the occasion, not missing a beat on staying positive. Throughout our time together this past year, she continued to be the most optimistic person I know—such an inspiration!
Everyone wanted to be around her because she was always smiling, always happy, and always looking on the bright side of life. She treasured her family. Time with her grandkids was sacred. She welcomed a new grandchild into her life earlier this year. Her husband shared with me recently how much joy that brought her. It gave her the strength to continue her treatments.
I saw her as a private client for several months. We used gentle, restorative yoga; Yoga Nidra; hand mudras; visualization; meditation/mindfulness; aromatherapy; sound therapy (tingsha bells, chakra bowls, healing music, nature sounds); grounding stones to hold onto and to surround her; and Reiki therapy in which I heavily use prayer. We consulted books on healing cancer, practiced rituals using candles and affirmations—you name it.
Mostly it was my sincere wish that our work together would give her hope and put her in a "rest and relax"/parasympathetic nervous system mode—the only time your body is empowered to regenerate. And as Wayne Dwyer used to say "If it's placebo, I'll take two!" She liked that quote a lot. She was up for whatever I brought to our sessions and she always had a smile and a hug for me coming and going. The trust she placed in me humbled me. I treasured our time together. It was such an honor and blessing to be invited into her home and into her family's life throughout this tender time.
LaVonne passed away surrounded by her loving family this past weekend. I can't stop thinking about her. Her energy goes on. As I said in my last post, I believe our souls live forever. I have been deeply blessed by this lovely lady. I will hold her close the rest of my lifetime and always remember that smile.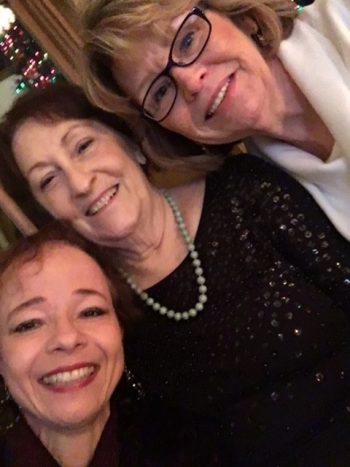 LaVonne's in the middle and Bebe is on the right in this New Year's Eve 2016 photo
P.S. A sweet addendum: My sweet husband and I went to LaVonne's visitation as well as her funeral services the next day. Both functions were literally packed with her adoring friends and family. At the visitation, we saw many, many lovely photos of her life. There were numerous family pictures, pictures from her large group of "church ladies", pictures from her wedding album, pictures of many fun trips to Europe and elsewhere. My husband and I really enjoyed viewing these memories and visiting with her family.
As we drove home from the visitation, "The story of my life" by the group, One Direction, came on the radio. The story of my life….I knew LaVonne's spirit would be talking with me. I just hadn't expected it so soon! The next song, back to back, was "Dust in the Wind" by Kansas. My husband has always told me he would like this song played at his funeral so LaVonne had this special gift for my husband too. This would be just the special consideration she'd give to a visitor—playing their song so they knew it was for them. We both broke down crying. I could just picture her joy at watching my husband and I view her lovely photos—"these are the story of my life", she'd say. And oh what a wonderful life it was.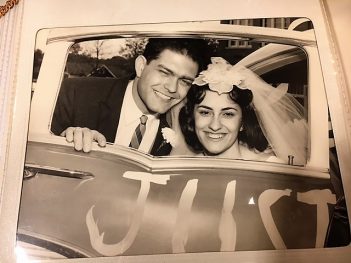 "If love could have saved you, you would have lived forever." 
~ David Ellsworth from The Serenity of Selfism